Clippers Training Center: Facility has groundbreaking ceremony, will open in early 2008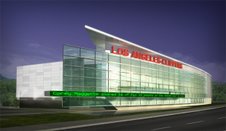 The Los Angeles Clippers Training Center at Playa Vista took a giant step forward today, with an official groundbreaking ceremony at the site. The 42,500 square foot state-of-the-art facility is scheduled to open in early 2008.

A longtime vision of Clippers' Owner Donald T. Sterling, the team's new comprehensive training center will be situated on a two-acre parcel of land within the Playa Vista community on Los Angeles' ever-growing Westside.

In addition to two full basketball courts, the two story structure will also house a 2,600 square foot performance and strength training area featuring state of the art cardiovascular and weight training equipment, as well as a training room and an extensive hydrotherapy area. Full locker room facilities for Clippers' players and coaches as well as offices for all members of the Clippers' Basketball Operations Department will also be on-site.

The facility will be located within close proximity to both the San Diego and the Marina Freeways. About two thirds of the team's current players live within ten minutes of the site.

The 104 year-old Turner Construction Company, headquartered in Dallas, Texas, will serve as the general contractor on the project.

Turner Construction is a nationally recognized company and is one of the nation's largest builders of educational, sport, commercial, retail, hotel, multi-unit housing, industrial, pharmaceutical, medical, cultural and institutional projects. Turner has a dynamic presence in the Downtown Los Angeles city skyline, starting with the Union Bank Building in 1967, and including the US Bank Tower and the Gas Company Tower in following years.

Turner has an extraordinary background in sports practice/training facility construction, having completed projects for the NBA's Cleveland Cavaliers and New York Knicks, the NFL's Cleveland Browns, Cincinnati Bengals, and Carolina Panthers, and the NHL's Columbus Blue Jackets and Pittsburgh Penguins.

Playa Vista, the facility's locale, is the first new community to be established on the Westside of Los Angeles in more than 50 years. The community balances residential, commercial and retail space. Situated about one mile from the ocean, Playa Vista is nestled below the bluffs of Westchester, adjacent to the newly-restored Ballona Freshwater Marsh and within easy reach of Santa Monica, Venice, Century City and the Los Angeles International Airport.

Architectural design on the facility was provided by Rossetti Architects of Los Angeles, with Tim Lambert serving as the lead designer. Rossetti's list of sports-related facilities includes the Palace of Auburn Hills, Michigan, Detroit's Ford Field, and the Home Depot Center, located in Dominguez Hills, California.