Exclusive: Shawn James signs with agent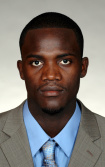 Duquesne basketball junior forward/center Shawn James, who has declared early entry to the 2008 NBA Draft, on Thursday told InsideHoops.com editor Jeff Lenchiner that he has signed with agent Steve Cronin. This ends James' college playing days; he's officially going pro and not looking back.

"I want to enter the draft knowing I'm going to give it my all. That this is what I'm going to do, turn professional and play on the next level," said James to InsideHoops.com.

An offensively-versatile, super-defender, James' college career began at Northeastern in 2004-05. In 24.8 minutes per game, James shot 63.3% from the field and averaged 10.3 points, 7.6 rebounds, 1.0 steals and a ridiculous 5.4 blocks.

As a sophomore, the 6-10 big-man played 27.7 minutes per game and improved his outside shot, taking almost two three-pointers per game and hitting over 45% of them. That season his shot-blocking ability was easily the best in Division 1 basketball, as James increased his average to 6.5 bpg, which reportedly broke the NCAA record.

James then transferred to Duquesne and as per NCAA rules he sat out the 2006-07 season. He was one of the Duquesne players shot in a totally unprovoked campus attack on the players. James spent last season recovering, while playing hurt, and is now fine.

In 2007-08, James kept improving, but wasn't able to show it due to an unusual Duquesne system that gave fairly equal minutes to almost everyone in the rotation. As previously mentioned on InsideHoops.com, Duquesne this season had eight players average between 19 and 26.4 minutes per game. Almost every other team in the Atlantic 10 conference had three, four or even five players averaging more minutes per game than the top minutes-getter on Duquesne.

Still, James led Duquesne in both scoring, rebounding and shot-blocking last season.

Currently three NBA teams have invited James to pre-draft workouts, and Cronin, his agent, says more are certainly expected.

His NBA position would be a forward, not center.

What also fascinates NBA scouts about James, who has put on 10 pounds of muscle since the end of this season and aims to add at least another 10 pounds soon, is his 7'6" wingspan, which enables him to affect countless shots simply by being around them and positioning himself intelligently, whether he registers a block or not. He's able to score in multiple ways near and in the paint and is quick and athletic enough to keep up with guards and on the fast break.

"I'm excited and can't wait to compete," said James.