Exclusive: Duquesne's Kojo Mensah signs with agent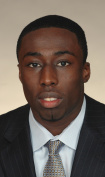 Duquesne guard Kojo Mensah, who already declared early entry for the 2008 NBA Draft, told InsideHoops.com editor Jeff Lenchiner Monday that he has signed with agent Steve Cronin and will not be returning to school.

"It's a good time right now to come out, especially based on the amount of media attention we had this year," Mensah told InsideHoops.com.

A 6-1, 180-pound New York City native, Mensah was a former AAU Juice All-Stars teammate of current NBA guard Sebastian Telfair.

Mensah put his name on the basketball map as a sophomore at Siena in 2005-06, receiving considerable attention as a super-quick guard who scores from mid-range to the rim, forces defenders to foul him, rebounds extremely well for a guard, and is a terrific defender.

At Siena, Mensah averaged 16.6 points, 6.3 rebounds, 4.1 assists and 2.5 steals per game. Unable to prevent him from penetrating, defenders often resorted to grabbing Mensah, resulting in 8.3 free throw attempts per game.

He also established himself as a prime defensive player, both as an individual defender and helping out teammates.

Looking for a bigger stage, Mensah transferred to Duquesne, who play in the higher-profile Atlantic 10 conference, joining friend Shawn James who also transferred there. As per NCAA transfer rules, he sat out the 2006-07 season. Mensah was one of the five Duquesne players to be shot in an unprovoked attack. He played the season while still recovering from injury and feels close to 100 percent now.

In 2007-08 Mensah's Duquesne team used a rotation system that gave fairly equal minutes to most of the squad. Like many players on the roster Mensah, who only played 23.7 minutes per game, never found his flow, which some speculate helped his decision to turn professional.

Although Mensah must now work to remind people of the terrific both-ends-of-the-floor skills he proved to have as a sophomore, there is some NBA interest in learning more about his game and at least considering him as a second round pick. So far one NBA team has informally invited Mensah to a Draft workout.

"I bring an uptemp game. Defensively, I can really impact the game," Mensah told InsideHoops.com. "And I bring many dimensions, scoring, helping other guys get better, create opportunities for my teammates, setting them up with shots, scoring on my own, out-rebounding other guards, and creating something out of nothing."