Quote:
Originally Posted by kNicKz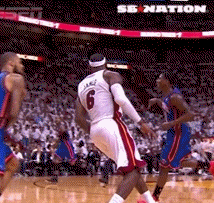 Serious enough to flop all over the basketball court.
You haven't even gotten a win against the knicks this season
This doesn't disprove that they cruised in that series. The Heat could get nothing going on offense, and yet they still won in 5 games. The first game was a 33 point blowout, and after that it was a borefest.
The Knicks celebrated their one win like it was the NBA Finals.
Your shooters were shooting above their averages. Who is #1 in the East? Not the Knicks.