Kobe's first Addidas shoe....really comfortable ..the inner sock was very ahead of it's time
Crazy 8's were a epic shoe at the time...
The Kobe I's took a more sleek/modern futuristic approach and were a amazing overall shoe
The II's were very similar to the I's...but with hidden laces...when you balled in them he foam on the sides would bendand rease very badly...poor design IMO but a very inovative shoe (look and tech wise)
simply put...the shoe was too ahead of it's time in design and function
Kobe switches to Nike.....
Kobe/Hurache 2K4..simply put....the greatest basketball shoe ever...
if you never owned a pair....you must find some...super lightweight...the ebst support I ever felt...the shoe is far and away the best functional basketball shoe ever.....too go along with bieng asthetically remarkable.
the 2K5's.....heavier then the 2K4's...and much Bulkier...a decent BBALL shoe...but nowhere near it's predessesor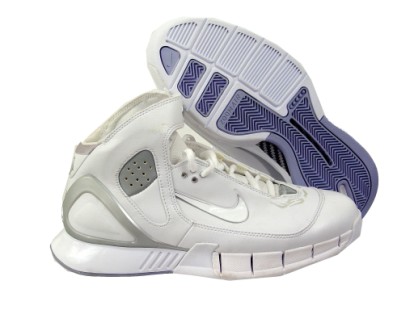 Kobe 2006's....(81 shoe)
prolly one of he most comfortable kobe shoes ever...but poor design ruined it....too heavy/the top lace hole was sharp plastic???...mid top was too soft of a fabric...no support..had the cool contrastin stiching though
zoom Kobe 1's..I hated this shoe...the ahole rubbery/vinyl make up was just unomfortable to play in...it was a narrow shoe with bad traction also....ust never felt right.(Kobe's first shoe with written signature)
zoom Kobe2's....nike ****** down the house with this one....this shoe is top shelf design with supreme basketball comfort...a little on the heavy sie...but this shoe is tight. The yellow mid sole is cool with a unique design...the strap works well and the stitching makes a very asthetically pleasing shoe to look at.
must have this one...