Here goes my second attempt at this. I know for certain that at least 5 first round trades will happen, they always do, so I'm factoring in any trades to this mock, hence my picks for #2 and #4. The end of the draft is barely discussed, because players at the end of the first round don't often make much of an impact.
1. Cleveland - Kyrie Irving
Although I don't agree with it, Irving is clearly the pick here. It must be tough being a GM, the fans want Irving, and if you don't pick him and your pick fails, there goes your job. With the 1st pick, you really have to pick the consensus number 1 overall.
2. Cleveland - Derrick Williams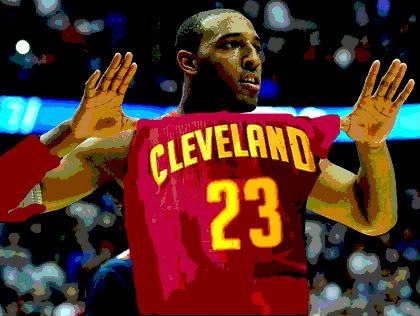 What an epic "F you" from Cleveland and Williams to LeBron. They should pick him and give him LeBron's jersey. I think if the Cavs can work out a deal with the Timberwolves (forget the Pistons), Williams can really validate Irving. Williams has the potential to be an all-star and a franchise player. (Before anyone argue that, think about what your definition of a franchise player is, because Joe Johnson was one). Williams should score in the high teens right out of the gate.
3. Utah - Brandon Knight
People haven't spoken too much about Knight leading up to the draft, which makes me think he has a promise at #3 from Utah. He is a dynamic player, who just needs to work on his focus and on reducing turnovers. Having Devin Harris in place will really help his transition to NBA point guard.
4. Minnesota - Enes Kanter
I see this as a 5 player draft. Irving, Williams, Knight, Walker and Kanter. Out of those players, Kanter has the ability to produce at a very high level immediately. He will really shock a lot of people this year, and playing against Milicic everyday will really toughen him up for the NBA. Minnesota is going to have one of the most bruising front-lines in recent memory.
5. Toronto - Jonas Valanciunas
Toronto may get a hard time for drafting another Euro, but Jonas is a legit NBA center, allowing Bargnani to move to his natural 4 spot. He may take time to come to the NBA, which may make the Raptors consider someone else here. Kemba Walker could be an option here, too, but I think the Raptors end up trading for Johnny Flynn.
6. Washington - Jan Vesley
The Wizards need an injection of athleticism and pure basketball passion. Jan Vesley is the guy that brings both of those things, he also makes Blatche expendable if they decide to move in that direction. Vesley is one of the most unique players I have seen in a long time, he would be able to get meaningful playing time on every single NBA team due to his versatility..... I just don't know what sort of potential he has to unlock.
7. Sacramento - Kemba Walker
I refuse to believe anyone that says Walker doesn't go here. Sacramento would have an extremely athletic and scary back 3 if they take Walker here. Walker at the 1, Thornton at the 2 and Evans playing the 3. That's a high scoring and highly skilled perimeter unit. Evans would still have the role of facilitator, with Walker moving off the ball.
8. Detroit - Bismack Biyombo
It's important Detroit swings for the fence with this pick. They need someone that can bring back the defensive mojo of the team. Biyombo and Monroe are a nice foundation for the future, and they offer completely different styles of play, much like Ben Wallace and Rasheed Wallace. The next step, getting their hands on a leader at point guard, and either trading Stuckey or moving him into a 6th man role.
9. Charlotte - Marcus Morris
Marcus and Markieff... that current day Harvey and Horace? Marcus Morris, unlike Harvey Grant is the higher-rated twin, but I don't see him being a very productive pro. Maybe a slightly better version of James Johnson. Or Marvin Williams level at best. I really want the Bobcats to hit a home run with their pick, so I hop they don't take Morris as the "BPA"
10. Milwaukee - Alec Burks
Milwaukee need a replacement for Redd, and Burks offers a completely different type of shooting guard. He won't see the light of day under Skiles unless he can focus in on defense. Until he either improves his 3 point shooting or his defense, he is more of a liability to Skiles. However, he has a lot of potential to be a very good 2 guard.
11. Golden State - Klay Thompson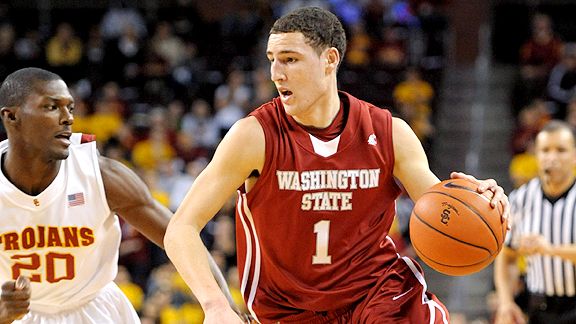 They need a center, but I just don't see anyone worth taking there. I think they take Thompson, who projects to be Anthony Morrow at worst, Kevin Martin at best. Ellis is most likely gone this season, and they need a bigger 2 guard. Curry and Thompson would be just about the best shooting back-court in the entire league
12. Utah - Donatas Montiejunas
A lot of people have been knocking this guy for his lack of passion, but I see a guy that just needs to be tuned in. Not every bigman needs to be an absolute brute like Kanter. With the recent success of Dirk, I think Utah takes a chance after playing it safe with their 3rd pick. This gives the team a front court rotation of Jefferson, Okur, Millsap, Favors and now Montiejunas. I think it signals a trade of Jefferson, who has had a negative effect on +/- everywhere he has gone.
13. Phoenix - Tristan Thompson
Other mocks have him going here, and I do, too. He is a classic power forward, a banger, bruiser who rebounds and blocks shots. He's also young, which is a plus in this draft.
14. Houston - Kawhi Leonard
Shane Battier gone? No problems, in steps Kawhi Leonard, one of the most awesome defenders to come out of college in recent years. Morey is a stats guy, and once the Rockets look at the numbers, I'm sure Leonard won't fall past this spot.
15. Indiana - Jimmer Fredette
He's just what they need! Points off the bench, charisma, and a guy that won't fade in the clutch (unlike Granger). Defensively, I don't see how he ever gets into the starting 5 over Collison, but as a Jamal Crawford type scorer, he'll be phenomenal.
16. Philadelphia - Markieff Morris
Local boy shows up to beef up the front court. He would compliment Speights nicely, as he offers a lot of intangibles that Speights doesn't do. Fits in with their defensive principles.
17. New York - Josh Selby
Top 5 talent at pick 17. Far too hard to pass up on. There are no decent impact bigs left, so maybe the Knicks try to turn Chancey Billups' large expirer into a defensive presence on a horrible contract at center.
18. Washington - Jordan Hamilton
Washington should target a scorer with their 2nd pick after taking Vesley. Hamilton is one of the top two scorers left on the board along with Marshon Brooks.
19. Charlotte - Chris Singleton
Singleton fits into the Bobcats defensively, and he projects himself to be a Scottie Pippen type of player. I wonder if MJ could get Pippen a job as an assistant here seeing as how Oakley might be sitting out coaching this year due to injury. Singleton has a good base of skills, but other than defense, he's pretty average at everything else. He needs a LOT of work offensively.
20. Minnesota - Marshon Brooks
Brooks will provide scoring punch from the 2 guard spot, and provides a good amount of speed to what looks like a slow backcourt (Rubio, Ridnour, Ellington and Webster)
21. Portland - Kenneth Faried
Portland tried to sign Millsap as a back-up to Aldridge, Faried doesn't have the strength of Millsap, but he offers them rebounding prowess, and he is a player that will never give up. Easily one of the best fits of the draft.
22. Denver - Lucas Nogueira
They need size, and Nogeira's familiarity with Nene may help his transition. He has a lot of talent, he just needs time to develop. The Nuggets have a nice mix of young players, so they are not in need of rushing his development.
23. Houston - Corey Joseph
I thought long and hard about this pick. Reggie Jackson is the higher rated prospect, but Joseph was highly touted out of high school, and guards from Texas never seem to be given the right opportunities to fully develop. Joseph is an upside pick. With Kawhi Leonard on board, the can afford to stash their other first rounder in the NBDL with Thabeet.
24. Oklahoma City - Kyle Singler
Most mocks have Singler going here. He provides a lot of intangibles, and he should make for a very good role-player at the next level, as well as supplying Durant with some rest. He should be able to fill in playing the Jeff Green role at power forward, too, in a pince.