Quote:
Originally Posted by 3ball
1.)
2019 Regular Season "closest defender" stats on 3-pointers
Curry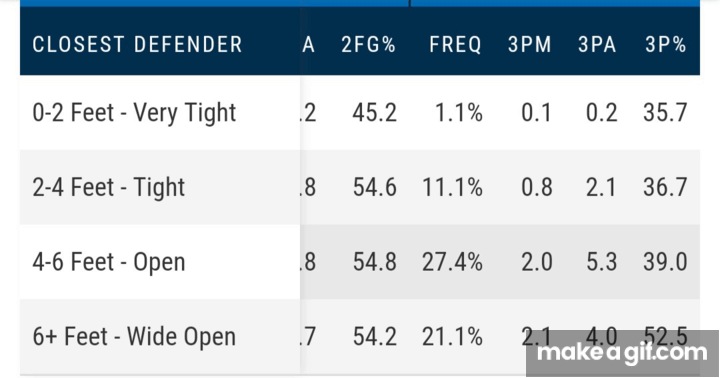 Total 3-point attempts per game:.
11.6
Attempts that are "open" (4-6 feet) or "wide open" (6+ feet):.
9.3
__________________________________________________ ___________
Percentage of attempts that are "open" or "wide open":.
80.2%
Conclusion on Curry
- he needs space to shoot threes, thus hurting him in the clutch compared to good mid-range players, who don't need any room and can get the shot whenever they want
TLDR: 80% of Curry's threes are open... The league average is 89%

Common knowledge: today's spacing strategy gives defenses no chance to cover the ground (hence the open threes)
2.)
Curry is bad at contested mid-range:
2019 Playoffs




https://stats.nba.com/player/201939/...nType=Playoffs
TLDR:. Curry shoots 29% on tightly contested two's outside of 10 feet, and 39% on contested - so he shoots bad at contested mid-range, which means he's bad at contested jumpers overall because 80% of his threes are open (see #1 above).

So MJ is a better jumpshooter than Curry because he's better at contested jumpers, while being the goat mid-range shooter..

and MJ shot 40% on threes on 4 attempts during a championship run and in the Finals without practicing threes like today's player, so just naturally because his form is goat and he has goat fundamentals
You're such a ****ing idiot on this point.
You say he's 29% on "tightly contested mid-range shots" but the image clearly shows he only took 0.4 "very tight" mid-range shots per game vs 1.1 "tight mid-range shots" at ~39% per game, either way the sample size is very small but the image clearly shows he shoots well above 30% on tightly contested mid-range shots, which he barely attempted since it's not within his team's best interest to shoot those shots unless forced to. He plays a different game so to say that he's a worse jump-shooter on the fact that he barely shoots contested mid-range shots is just being dishonest.
And it's a joke that you make it sound like Jordan was this god who shot like 50% on highly-contested mid-range shots when that's far from the truth, most of his shots were close to wide open with how good his teams were at creating those shots for him. Curry's numbers on open mid-range shots are among the best in the league, we've been through this before where I pulled up Curry's jump-shooting numbers throughout the years and he was as good as MJ at them when he did shoot them at a volume from mid-range in his earlier years.
The 3-point statistic is a joke as well because the sample size for "very tight" is hilariously small at 0.2, which means that he's a smart player who doesn't jack up bad threes unless forced to by the defense/shot-clock.
Curry's easily the greatest shooter of all-time by all metrics. Not only does he crush any other 3-point shooter (RS record, Playoffs record, Finals record) but he also has the highest FT% all-time.
It's fine. Jordan doesn't have to be the best at everything. You don't have to lose your shit any time someone says that Player X is better at something than Jordan because you don't have to be the best at everything to be the GOAT. Winning and consistency alone is enough.