Quote:
Originally Posted by Make It Rain
Wataru Misaka.
That is correct
A 5'7" guard of Japanese descent born in Utah played three games for the New York Knicks in 1947-1948 . . . Wataru "Wat" Misaka.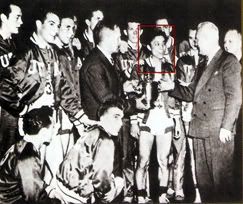 Wat Misaka helped guide the University of Utah to the 1944 NCAA crown.
quoted from Tower Sports Magazine :)
..And then there's the first basketball player of Asian descent to make it to the NBA. Nope, it's not Wang ZhiZhi of China and neither is Rony Seikaly, who playerd for Lebanon after his NBA Career. According to historians, that distinction belongs to Japanese-American guard Wataru "Wat" Misaka, a
5-foot-7 guard
born in Ogden, Utah who starred for the University of Utah and then played with the New York Knicks during the 1947-1948 season.
Although he was a
first-round draft pick, Misaka played just three games for the Knicks before he was cut.
It was the same year that Jackie Robinson became the first African-American to play major league baseball, which is probably why there is little mention of Misaka in the annals of sport history.
Misaka, who became an engineer after hanging up his sneakers, is now enshrined a Japanese-American Hall of Fame - in the sports of bowling. :)
Other Asians who make it in the NBA
Filipino-American who made it in the NBA
1. Raymond "Ray" Townsend
- was drafted as the 22nd overall pick by the Golden State Warriors in the 1978 NBA Draft.
http://www.databasebasketball.com/pl...lkid=TownsRa01
3 Seasons NBA Stats:
4.8 PPG, 1.4 APG, 1.0 RPG in 154 games
He was a 6'3", 175 lb. guard.
Townsend played college basketball at the University of California, Los Angeles (UCLA) and was selected with the last pick in the first round (22nd overall) of the 1978 NBA Draft by the Golden State Warriors. He concluded his NBA career in 1982 as a member of the Indiana Pacers.
Townsend's mother is from the
Philippines
and his father is
American.
2. Ricardo Brown
- 1985 PBA Most Valuable Player of the Year, was originally drafted by the Houston Rockets in the 1979 NBA Draft.
Picked No.
59
overall in the 1979 NBA Draft by the Houston Rockets. Never played an NBA game but became one of the best Guard in the Philippine Basketball Association
http://www.armchairgm.com/index.php?...BA_Draft_Picks
So Mr. Make it Rain is now your turn to ask the question.