People posted these two gifs in that thread about Kobe analyzing Pippen's defense...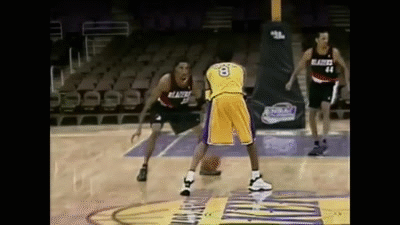 Kobe carries the ball no less than twice. Kyrie carries the ball no less than twice. Even worse than Kobe's.
So, when did this become a standard?
People like to make fun of this...
Without seemingly realizing that the footage from that era was shot on different recording devices which alters our perception of the speed of play... and two... Cousy isn't carrying the ball. He's actually doing this thing called dribbling.
Here's LeBron traveling and carrying on the same play...
Here's Iverson carrying hardcore multiple times with a play that a lot of people consider to be the highlight of his career...
To be honest, I don't think there are any perimeter players in the league today that don't get away with carrying, so this isn't about calling anyone out. It's about the quality of the product.
At what point did carrying the ball become legal? I must have missed that rule change.