Looks like Andrew Bynum power-slamming over Nenad Krstic will be the winner today... not a spectacular dunk, but pretty authoritative. Nened got owned.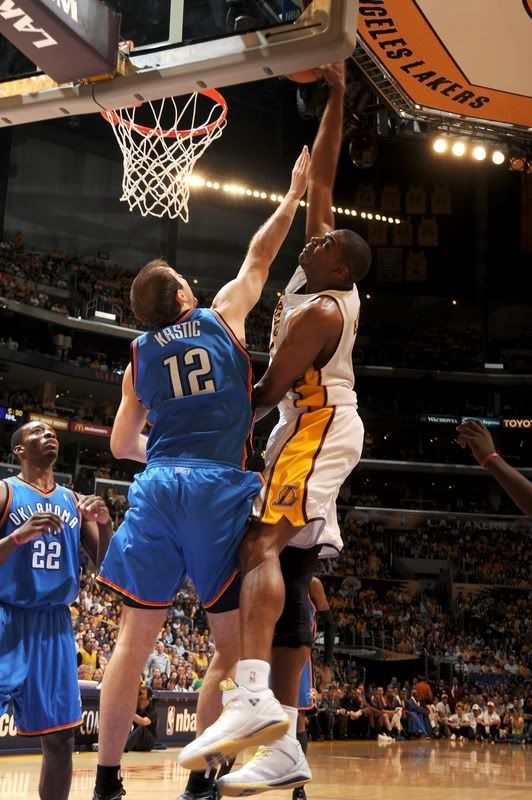 http://www.youtube.com/watch?v=BemuFQO4ETY
-DUNK RATING ON THE STARBURY NASTINESS SCALE-
7/10 Starbury nasty faces.

PHP Code:
-Regular Season Appearances Count-

As Posterizer:
-CJ Miles (1)
-Andrew Bynum (1)

As Posterized:
-Kenyon Martin (1)
-Nenad Krstic (1)


-Highlight Recap:
Mickael Pietrus bonkers three pointer.
Howard swatting shots all over the place.
Kobe throws it down.
Kobe swats KD.
NBA.com top plays.
-Lowlight Recap:
Marcus Camby damn near chokes the game by blowing a wide open fast break dunk
. (2:20)
-Kevin Durant's playoff debut could've gone better. Ron Artest D'd him up well, holding him to 24 points on 24 shots. Pau Gasol and Andrew Bynum combined for 32 points and 25 boards, they pretty much dominated the paint. This game was a lot like the Cavs/Bulls game, it was never really in question, even though the score got somewhat close for a moment. The only guy who played well for the Thunder was Westbrook (not surprising coughFISHERcough), he had 23/8.
-Gerald Wallace battled his @ss off and went for 25/17, but it wasn't enough for the 'Cats. The Bobcats actually outrebounded the Magic, and shot a higher percentage from the floor... but they got burned by the threes. Charlotte made 3, Orlando made 13. Dwight Howard only scored 5 points, but he did have 9 blocks (6 in the 1st quarter). Stephen Jackson hurt his knee, but continued to play. He says he won't be missing any games.
-I didn't watch all of the Mavs/Spurs game, so I can't tell you much about it. Looks like Drik had a great game, 36 points on 12-14 from the field. Dirk also connected on all 12 of his FT attempts.
-Without Brandon Roy, the Blazers marched into PHX and took game one. Portland was led by Andre Miller's 31 points and Marcus Camby's 17 boards. The Suns were cold, shooting only 41.8% from the floor. I assume they will get it together and still win the series.
-Next time I see Cherryl Miller sporting braids I'm going to throw something at my TV. Cherryl, you look retarded, god dammit. Stop.
-Who saw that rebound where Gerald Wallace skied and took it away from Howard, even while being fouled? Someone get me a video of that sh!t, it was sick wicked and nasty. Rarely do I classify a rebound as "spectacular". This was one of those crazy rebounds. Spectacular.
-Not only does Joakim Noah hate LBJ and the Cavs, he thinks Cleveland
"sucks"
. If he and his Bulls are going to show up tonight and play as poorly as they did in game 1, he may want to keep his mouth shut.

Jeff VanGundy on Andrew Bynum's poster dunk...
Quote:
Originally Posted by JVG
"This is my Nerf ball move."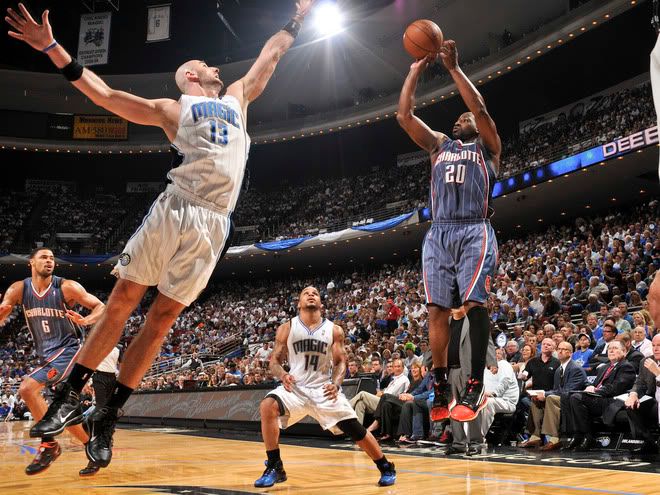 http://www.youtube.com/watch?v=yDi6yD0ZM2c