On the Fan 590 Jack Armstrong Yesterday (Radio) and today (Sportsnet+Radio) there was talk of the Hello T-shirts they my be connected to give proceeds to the Toronto Raptors Foundation!!!...Check it out tonight if any of you get time???
AS SEEN ON T.V.
Hey Raptor Fans look out for Jack Armstrongs Hello T-Shirts at the Clippers game Last Sunday..
Here's what I mean>>>>>
For the past couple of weeks while watching Toronto Raptor games Chuck Swirsky has been promoting Raptor ticket packs and calling them Salami and Cheese Packs.
When you purchase a pack you get a free Salami and Cheese T-Shirt.
And for those who don't know Chuck says "Bring out the salami and cheese mama this ball game is over!!" when ever the raptors look to be winning the game.
So what I did is make Jack Armstrong HELLO!! T-Shirt to bring some friendly camaraderie fun between the two of them, to be shown at the next Sportsnet Raptors Broadcast on Feb 4th
If you want to get one of the T-shirts from the La Clippers @ Raptors Game message me and let me know??
Here is a pic of the T-shirt....just incase u didn't believe I was the one who made it...Jack and I worked it out together...
I went to the clippers game in the 11th row...It was an amazing game!!!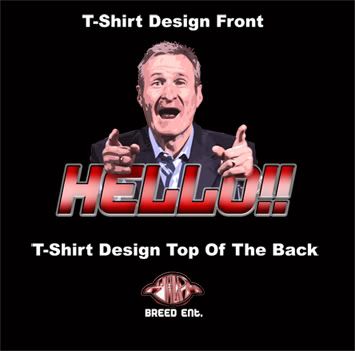 Im putting an order in this week I've got about 50 on order...
leave me messages in this Post??? or Email me At
halph23@hotmail.com
Ive been getting quite a few emails from poeple wanting to get some of these T-shirts ....When I get a large enough order for them ill be setting a final price and letting you all know how much there going to be and how I can get them to you...