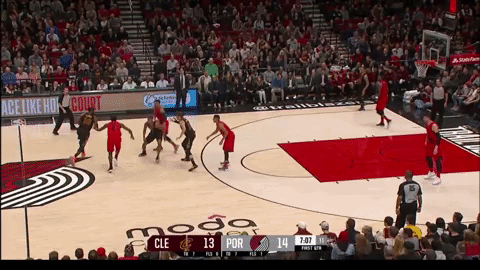 Only in today's era do players get a full running start so frequently in half court sets, due to the open runways/wide open paints created by current spacing strategy and high screen rolls.
The open runway is seen at the
beginning
of Lebron's drive - the big man defender gets there in time,
but Lebron already has a full running start
.. In previous eras, the lack of spacing would've made the paint packed at the BEGINNING of Lebron's drive, thus preventing him from getting the running start he needs to get the dunk.
The lack of spacing in previous eras and resulting lack of frequent "runways" meant that posters had to occur in tighter quarters,
necessitating 2-foot/vertical leaping
.. Unfortunately, lebron is only an average 2-foot leaper, so he wouldn't have the same effectiveness that he has in today's cupcake, mickey mouse spaced courts