For a great finger roll to be used efficiently to score, it needs to be like Gervin's;
Goes like 2-3 feet in the air to go 'over' the defender's hands. Iceman used it to great effect.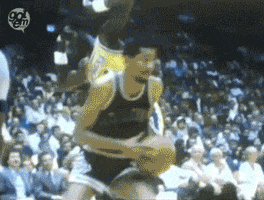 Quote:
Originally Posted by BoutPractice
So I think I've finally gotten a hang of the sky hook... and boy is that move ridiculously unstoppable once you understand how it works and feel confident with yourself making it.

A lot of it depends on balance, if you can easily do a Dirk leg and other "acrobatic" shots you're one step closer to the real sky hook. Having a good grip on the ball matters, as does follow through. Another thing I've noticed is that it's easier in motion, after a fake or a dribble (doing it from a stand still position in the post requires a lot of skill).
It's hard to use without big hands too. I needed to practice the rhythm so it would probably go off my hands instead of roll off and slice off sideways.
I don't skyhook, though. Just normal jump hook. My basic post move.