No Lebron stans allowed in this thread too. This is for
basketball fans
.
He has one of the Top 5 highest release points in league history. Silky smooth jumpshot that is hot from anywhere on the floor, especially in the clutch. Extremely lengthy to get his shot over anybody. Also unlike a lot of guys, he can spot up and shoot off the dribble at an efficient rate.
Elite level finisher at the rim and one of the lost arts that a lot of players don't have, he can drive left just as well as he can with his right. Making him an automatic mismatch that you have to respect.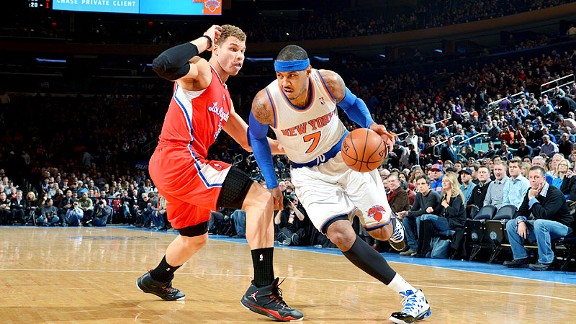 Elite level athlete than is a one man wrecking crew on a fast break. He has the hops to get good looks at dunks and high percentile efficient layups. Top 10 in game superstar dunkers of all time too.
When you think about the 3 best post up perimeter players of all time, these names pop up...
Jordan
Kobe
and Carmelo
This is where Carmelo does his best damage. He's relentles when it comes to backing down a defender. You can't stop him, he's just to big and strong.
His face-up one drible turnaround jumper is smooth but his face-up drive is
hands down the greatest ever
. Factor in his speed, size and elite slasher ability. It's literally unstopable. Also he has very good handles in the post.
I think we need to set our differences with whatever problem we had (if we even had one) with Carmelo and appreciate him as the aesthetically game pleasing player he is.
He has every offensive attack in the book and has spent his entire life perfecting them. He hasn't even peaked yet.