The 100th spot on the list is reserved for active players, who while not having full resumes yet, are on their way to cracking the list of the 100 greatest before their time is through. This year there are five such players tied for the 100th spot.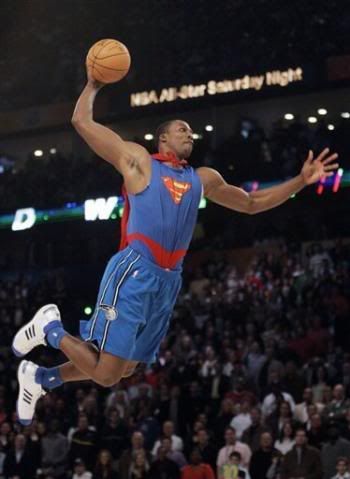 #100 Dwight Howard
Team(s):
Orlando Magic
Years Played:
2004-
Career Numbers:
17.3 ppg 12.5 rpg 2.0 bpg
Howard is one of the game's fastest rising stars and is poised to be the premier center in the league for the foreseeable future. Already three all-star games two slam dunk titles, two rebounding titles, two first team All-NBA selections and a trip to the NBA finals on his resume he is sure to move higher and higher up the list every year.
#100 Carmelo Anthony
Team(s):
Denver Nuggets
Years Played:
2003-
Career Numbers:
24.6 ppg 6.1 rpg 3.1 apg
Part of that amazing 2003 Draft Class that already features two members inside the top 99, Carmelo is well on his way to making it three. A prolific scorer, his defense and leadership spiked this season and his team surged into the conference final. Expect him to improve on his three consecutive third team All-NBA selections next season with a 1st or 2nd team spot.
#100 Chris Paul
Team(s):
New Orleans Hornets
Years Played:
2005-
Career Numbers:
18.8 ppg 9.6 apg 4.8 rpg 2.4 spg
Already widely regarded as the games best point guard Paul has already netted two assist and three total steals crowns while putting the Hornets back into the playoffs and NBA relevancy. Coming off a first team All-NBA selection last season Paul has a very bright future ahead of him.
#100 Amare Stoudemire
Team(s):
Phoenix Suns
Years Played:
2002-
Career Numbers:
21.1 ppg 8.9 rpg 1.5 bpg
Recovering from injuries and regaining as much of the explosiveness that's made him the NBA's most dangerous in the paint scorer of the last five years will be key for Amare and how high he climbs on this list. With a first and two second team All-NBA selections already to his name he's approaching the likes of Alonzo Mourning, Dave Cowens, Bill Walton, Willis Reed, Wes Unseld and Dikembe Mutumbo in terms of personal accolades already.
#100 Yao Ming
Team(s):
Houston Rockets
Years Played:
2002-
Career Numbers:
19.1 ppg 9.3 rpg 1.6 apg
The world's most popular players still and the most fascinating and frustrating in the NBA. It seems unlikely now that he'll eclipse many more players at his position on this list as he sits in the 100 spot for the third straight year. Injuries are piling up for Yao and postseason success is not. A seven time all-star and with two second and three third team All-NBA selections a fine career but it still feels underwhelming given his unique attributes and skills.