October 24th, 2012
So…what now? 2012-13 Spurs Season Preview
Coming off of a disappointing 4-2 loss to the Thunder in the Western Conference Finals, this season may be the Big Three's final shot at another ring.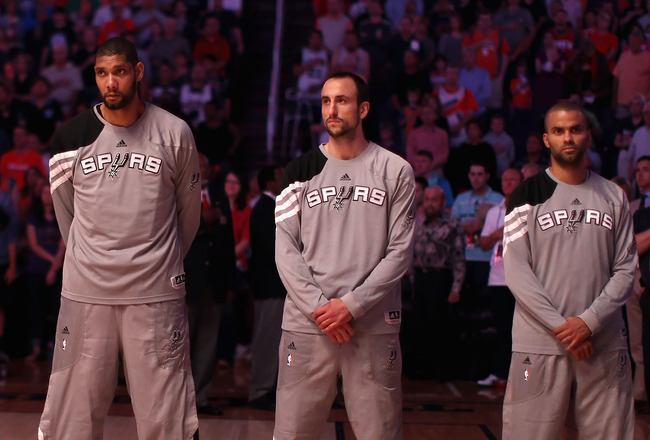 Age is a cruel mistress. Tim Duncan (36), Tony Parker (30), and Manu Ginobili (35) learned that the hard way in the Western Conference Finals against the young Spurs core of Kevin Durant (24), Russell Westbrook (23), and James Harden (23). That's all in the past now, and the Spurs have to look forward to [hopefully] better and brighter things in the upcoming season.
The Spurs lost nobody in the offseason, re-signing Tim Duncan, Danny Green, Boris Diaw, and Patty Mills. However nothing was gained either, and when teams like the Lakers and the Heat further improve their rosters, one has to wonder where San Antonio sits. Well according to NBA.com, they are #1 headed into the season.
Despite no big name new faces, the Spurs retaining franchise cornerstone Tim Duncan (15.4ppg/9.0rpg/1.5bpg on 49% from the field in 28mpg) as well as fourth year player Danny Green who saw increases across the board on his statistics with a 11.6mpg increase last season was very pivotal.
"I think it's obvious we want to keep these guys together for as long as possible. This team has a chemistry I'm almost afraid to touch and this upcoming season I see no reason why they won't finish first in the West again with this roster," General Manager R.C. Buford commented during a press conference late last week.
By now we know what to expect from the Big Three not only in terms of production but also minutes. Popovich will give them as much rest as possible until the playoffs. This places more pressure in the regular season on the youth of San Antonio. 21 year old NBA sophomore Kawhi Leonard is seen as someone who will be a mainstay for the Spurs foreseeable future. After the Spurs traded Richard Jefferson to the Golden State Warriors for Stephen Jackson last season, rookie Leonard embraced the starting small forward spot for the Spurs. While statistically he didn't blow anyone's mind last year, his play goes beyond the score sheet.
Tim Duncan (left) has helped mentor Kawhi Leonard (right)

When reporters caught up with Tony Parker yesterday, he had this to say on Kawhi: "Kawhi [Leonard] is so active; I mean sometimes I think there are three or four of him out on the court. Defensively he's not afraid of guarding the other team's best player and that's a great trait to have. I can't wait to see what he can do for us this year. I'm excited."
While plenty of questions exist for the Spurs headed into the season, time is the only thing to answer them. Their first game is October 31, when they'll play in New Orleans against the Hornets, a game that will mark the debut of this year's #1 lottery pick: Anthony Davis.
------
http://i.imgur.com/eE12bPT.png
http://i.imgur.com/jDxT1To.png
These pre-season rankings did not take into account any trades (such as the Houston Rocket's addition of James Harden).