NBA Europe Live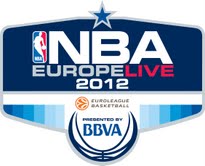 List of NBA preseason games being played in Europe in 2012

The 2011 NBA Champion Dallas Mavericks will play a preseason game against 17-time Spanish Champions FC Barcelona Regal of the Euroleague on Oct. 9, 2012 at the Palau Sant Jordi as part of the NBA Europe Live 2012 tour, the National Basketball Association (NBA), Euroleague Basketball, and BBVA announced today at a special press conference held in Barcelona.

The sixth edition of the NBA Europe Live Tour continues the tradition of NBA teams travelling to the continent to play in a series of preseason games against top Euroleague opposition.

"We are excited that the Dallas Mavericks will travel to Spain this year for NBA Europe Live presented by BBVA," said Benjamin Morel, Senior Vice President, NBA Europe. "Spain has played host to a variety of NBA events in recent years as the game of basketball continues to captivate and excite our fans. With the support of the Euroleague, BBVA and our partners, this matchup further demonstrates our commitment to bringing live events to our dedicated fans in Spain.

Barcelona will be the final stop of a four-game tour as part of NBA Europe Live 2012. The 17-time NBA Champion Boston Celtics tip-off the tour with a game against five-time Turkish Champions Fenerbahce Ulker Istanbul in Istanbul, Turkey on Oct. 5 at the state-of-the-art Ulker Sports Arena. Prior to the game in Barcelona, the Dallas Mavericks will play a game against eight-time German Champions Alba Berlin at the highly successful O2 World in Berlin, Germany on Oct. 6. The Celtics play their second game against 25-time Italian Champions EA7 Emporio Armani at the Mediolanum Forum in Milan, Italy on Oct. 7. The tour culminates with the game between the Mavericks and FC Barcelona Regal on Oct. 9 at the Palau Sant Jordi.

"Since 2006 both of the leading basketball competitions, Euroleague Basketball and the NBA, have been coming together to offer fans spectacular basketball and this year is no exception," said Roser Queralto, Euroleague Basketball's Chief Business Development Officer. "Some of the best and historic teams from the NBA will face off with some of the strongest Euroleague and European teams for some exciting preseason games to warm up for the next season."

Following the NBA Europe Live Tour 2012, over 450,000 fans will have attended 32 Europe Live games in 12 cities since the inaugural NBA Europe Live series that took place in 2006. In total, 60 games featuring 25 NBA teams will have been played in 18 cities in Europe since 1988.

Extensive community events and programs will again compliment the on-court action in each of the four cities. As part of its NBA Cares initiative, the NBA family has helped create and build 23 places in Europe where children and families can live, learn or play in nine European countries. NBA Europe Live 2012 will also consist of a range of activities for fans in addition to the games, including interactive fan events, basketball development programs, player appearances and more.

NBA Europe Live 2012 Game Schedule
Oct. 5 in Istanbul: Boston Celtics vs. Fenerbahce Ulker Istanbul, at Ulker Sports Arena
Oct. 6 in Berlin: Dallas Mavericks vs. Alba Berlin, at O2 World
Oct. 7 in Milan: Boston Celtics vs. EA7 Emporio Armani, at Mediolanum Forum
Oct. 9 in Barcelona: Dallas Mavericks vs FC Barcelona Regal, at Palau Sant Jordi arena


----------

NBA EUROPE LIVE 2009

The National Basketball Association's Utah Jazz and Euroleague Basketball's Real Madrid will go head-to-head at the Palacio de Deportes on October 8 as part of NBA Europe Live 2009 presented by EA SPORTS™ the NBA, Euroleague Basketball and EA SPORTS announced today. The Jazz will also play the Chicago Bulls in London on October 6 in the first game of the tour.

"For the last three years through NBA Europe Live, I have been able to witness first-hand, the passion and excitement of basketball fans in Europe," said NBA Commissioner David Stern. "This year will be no different when two franchises rich in tradition and success play in Madrid. The continued support of Euroleague Basketball and EA SPORTS is a testament to this collaborative effort to further grow basketball in Spain."

Spain has hosted NBA Europe Live games each of the past four years (2006-09) and the NBA last visited Madrid in 2007 when the Toronto Raptors and Memphis Grizzlies played Real Madrid and Estudiantes respectively. The city of Madrid also hosted the Boston Celtics in 1988 in one of the first international games featuring an NBA team as part of the McDonald's Open.

The 2009 games will mark the Jazz's first time to play in Europe, although the franchise has competed internationally before. The Jazz previously opened the 1990-91 regular season with two historical games in Tokyo, Japan against the Phoenix Suns, marking the first time regular season games were played abroad by a major North American professional sports league. The Jazz also played a total of three preseason games in Mexico City prior to the 1996-97 and 2003-04 seasons and three preseason games in Canada long before the NBA's expansion there (1980-81 and 1990-91).

"We are certainly excited to be one of the two teams chosen to participate in NBA Europe Live this fall," said Utah President Randy Rigby. "The opportunity to match up with one of Europe's preeminent teams in their hometown should make for a fantastic basketball game and will hopefully be a tremendous experience for our players, coaches and fans alike."

NBA Europe Live in Madrid is the third preseason game the NBA has announced that will be played outside the United States and Canada this October. Along with the Jazz-Bulls Europe Live game in London, the Phoenix Suns and the Philadelphia 76ers will play in Monterrey, Mexico on October 18 as part of NBA Mexico Game 2009. To date, the NBA has staged a total of 93 games outside of the U.S. and Canada in 31 cities in 16 countries and territories.

"We continue to enjoy a fruitful partnership with the National Basketball Association across Europe through NBA Europe Live," said Jordi Bertomeu CEO of Euroleague Basketball. "We hope that we will be able to continue bringing the excitement of the sport of basketball to fans across the globe." The Madrileños, one of the most successful teams in European basketball history, have earned eight Continental titles and a record 30 Spanish Championships. The current roster features former Utah Jazz point guard Raul Lopez and 2006 World Championship gold medalists Felipe Reyes and Alex Mumbru.

"After three previous NBA games with the Boston Celtics, Phoenix Suns and Toronto Raptors, Real Madrid is getting ready to face its fourth game against an NBA team, the Utah Jazz. Regardless of the result, it will be a true celebration of basketball, where two teams from the strongest basketball leagues in the world will face each other," said Antonio Martin, Director of Basketball, Real Madrid. "All fans of the sport will enjoy an event that will be filled with excitement and great basketball entertainment."


----------

2008 NBA EUROPE LIVE

The Miami Heat, New Jersey Nets, New Orleans Hornets and Washington Wizards will play preseason games in Barcelona, Berlin, London and Paris in October as part of NBA Europe Live.

"Our third consecutive year of NBA Europe Live is another step in our ongoing effort to bring the excitement of the NBA to our growing fan base," said NBA Commissioner David Stern. "Through the support of our partners, including EA SPORTS, the Heat, Nets, Hornets and Wizards will compete and extend our global commitment to community service in four European cities where basketball's popularity is increasing."

Following NBA Europe Live 2008, NBA teams will have played 48 games in 18 different cities in Europe over the past two decades. Last year's seven NBA Europe Live games drew more than 10.3 million viewers, 75,000 spectators, and were supported by 23 marketing partners.

NBA Europe Live 2008 will include the 2006 NBA champion Heat taking on the Nets at the Palais Omnisports de Paris Bercy in Paris on Oct. 9. The teams will then travel to London for their second contest on Oct.12 at The O2 Arena.

The O2 World in Berlin, Germany will host the match up between the Hornets and the Wizards on Oct. 14. The arena will open this fall and mirrors the groundbreaking O2 Arena in London. Following the game in Berlin, the two teams will play the final game on the tour in Barcelona on Oct. 17 at the Palau Sant Jordi.

"Euroleague Basketball is always seeking to participate and help in making the sport of basketball grow across the globe and, for the third consecutive year, we are happy to be participating and making the bridges between Europe and the USA stronger," said Jordi Bertomeu, CEO of Euroleague Basketball. "The NBA Europe Live program offers fans the possibility of watching great basketball, and is one in a series of ideas that can bring basketball to the forefront of world sports."

2008 NBA EUROPE LIVE GAMES SCHEDULE

Oct. 9, Paris: Nets vs Heat. Arena: Palais Omnisports Paris Bercy
Oct. 12, London: Nets vs Heat. Arena: The O2
Oct. 14, Berlin: Wizards vs Hornets. Arena: O2 World
Oct. 17, Barcelona: Wizards vs Hornets. Arena: Palau Sant Jordi


----------

2007 NBA EUROPE LIVE: OCT. 1-5, 2007

The Boston Celtics will take part in the second year of NBA Europe Live presented by EA SPORTS™ along with the Minnesota Timberwolves, Memphis Grizzlies and the Toronto Raptors. The four teams will conduct training camps and play six exhibition games in six European cities in four countries, announced today by NBA Commissioner David Stern.

The Celtics will have their training camp take place in Rome, Italy from October 1-5, 2007. The Celtics will play their first game of the 2007-08 preseason against the Toronto Raptors in Rome at the PalaLottomatica on October 6. The Celtics will then travel to London, England to take on the Minnesota Timberwolves at the O2, London's new state of the art NBA style arena on October 10.

This October will mark the Celtics' first appearance in Europe since the 1988-89 preseason when they played two games in Madrid, Spain in the McDonald's Classic. The Celtics played the Yugoslavian National Team on October 21, 1988 and played Real Madrid on October 23, 1988. The Celtics won both match-ups, defeating Yugoslavia 113-85 and Real Madrid 111-96.

The 2007 NBA Europe Live presented by EA SPORTS™ will mark a series of firsts in the NBA's 19-year history of conducting games in Europe. The Boston Celtics and the Minnesota Timberwolves will play in the first basketball game in the O2, London's new state of the art NBA style arena. In addition, the NBA will conduct its first game played in Turkey. The event will also feature the first time two NBA teams have competed against one another in Rome.

After the 2007 NBA Europe Live, NBA teams will have played 41 games in 15 cities throughout Europe over the past two decades. The inaugural NBA Europe Live drew more than 36 million viewers, 115,000 spectators, and 18 marketing partners in October 2006.

This is the only full event of the year where NBA teams and Euroleague teams play together and against each other.

"Following the success of last year's event, fans throughout Europe will have the opportunity to see four NBA teams embark on this special European tour," said NBA Commissioner David Stern. "This collaborative effort between the NBA, Euroleague Basketball and EA SPORTS™ is committed to grow the sport of basketball across Europe and to embrace fans in each city through our NBA Cares community outreach."

"Last year, we witnessed outstanding games proving that the game of basketball is growing in popularity and intensity. Euroleague Basketball is excited to be participating in the second edition of NBA Europe Live with teams such as Efes Pilsen Istanbul, Unicaja Malaga, Real Madrid and Lottomatica Roma," said Euroleague Basketball CEO Jordi Bertomeu. "We look forward to seeing some great games."

"We share a passion with our partners at the NBA to bring the world's best basketball to Europe," said Jan Bolz, Vice President, International Sales and Marketing at EA. "After the great success of last year's event, we're excited to continue to be ambassadors for NBA basketball and for the opportunity to showcase NBA LIVE on the largest of stages. NBA Europe Live presented by EA SPORTS™ creates an authentic platform for fans of all ages to enjoy real life and virtual basketball experiences across the continent."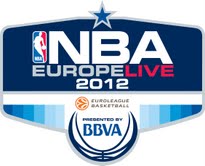 As part of NBA Cares, the NBA and adidas will conduct a series of court refurbishment and community enhancement activities in the cities where its teams will visit. During the 2006 NBA Europe Live, the NBA and Euroleague teams hosted more than 15 community events, highlighted by four basketball court refurbishments with global partner adidas in Barcelona, Rome, Lyon and Cologne.

"The NBA's popularity in Europe has never been higher and we look forward to building upon the success of last year's event with new ways of reaching the NBA fans in Europe," said Lawrence Norman, adidas Vice President and Head of Global Basketball.

"We are delighted that the NBA has recognized the growing popularity of basketball, especially in markets like Turkey," said Scott McCune, Vice President, Worldwide Sports, Entertainment and Licensing, The Coca-Cola Company, a partner of NBA Europe Live for the second year.

Following is the schedule for the 2007 NBA Europe Live presented by EA SPORTS:

NBA EUROPE LIVE 2007 TRAINING CAMPS LOCATIONS:

TEAM DATE CITY
Boston Celtics Oct. 1-5 Rome
Memphis Grizzlies Oct. 5-8 Malaga
Minnesota Timberwolves Oct. 1-5 Istanbul
Toronto Raptors Oct. 1-5 Treviso

2007 NBA EUROPE LIVE GAME RESULTS

Oct. 6:

Boston Celtics 89, Toronto Raptors 85 (Played in Rome - Kevin Garnett 19 points, 16 rebounds. Paul Pierce 21 points. Chris Bosh 12 points, 9 rebounds.)

Minnesota Timberwolves 84, Efes Pilsen Istanbul 81 (Played in Istanbul - Al Jefferson 11 points, 17 rebounds. Ryan Gomes 12 points, 13 rebounds.)

Oct. 7:

Toronto Raptors 93, Lottomatica Roma 87 (Played in Rome - Chris Bosh 23 points, 9 rebounds. Andrea Bargnani 13 points, 7 rebounds.)

Oct. 9:

Unicaja 102, Memphis Grizzlies 99 (Played in Malaga - Pau Gasol 18 points, 10 rebounds, 3 assists, 4 blocks. Mike Miller 17 points, 9 rebounds, 7 assists, 3 steals. Juan Carlos Navarro 21 points.)

Oct. 10:

Boston Celtics 92, Minnesota Timberwolves 81 (Played in London - Ray Allen 28 points. Kendrick Perkins 11 points, 5 rebounds. Ricky Davis 18 points, 3 assists.)

Oct. 11:

Memphis Grizzlies 98, MMT Estudiantes 73 (Played in Madrid - Darko Milicic 13 points, 7 rebounds. Pau Gasol 10 points, 8 rebounds, 5 assists, 3 steals, 3 blocks. )

Real Madrid 104, Toronto Raptors 103 (Played in Madrid - Andrea Bargnani 23 points, 7 rebounds, 6 turnovers. TJ Ford 18 points, 8 assists. Jorge Garbajosa 15 points, 4 rebounds. Rasho Nesterovic 13 points, 5 rebounds, 3 blocks.)

Additional NBA Europe Live Info

The 2007 NBA Europe Live presented by EA SPORTS™ will mark a special homecoming for some of the players involved including Toronto Raptors rookie Andrea Bargnani, a native of Italy. Toronto's Jose Calderon and Jorge Garbajosa, both natives of Spain, will play in Madrid for the first time wearing a Raptors uniform. Spain's most celebrated basketball player Pau Gasol will make his second appearance in the country with the Memphis Grizzlies. Memphis last played in Barcelona in 2003. In addition, Toronto's Vice President and Assistant General Manager, Maurizio Gheradini will be returning home to Italy where he served as Benetton Treviso's Executive Director and General Manager for 14 years.

An NBA licensee since 1991, EA expanded its relationship with the league to become an official global marketing partner of the NBA to develop interactive basketball programs around the world, including NBA Europe Live presented by EA SPORTS™. The award-winning NBA LIVE video game franchise, recognized worldwide for delivering the most authentic interactive basketball experience for more than a decade, will be featured in promotion of the events throughout Europe and the U.S. The newest iteration in the series, NBA LIVE 07, is currently available in more than 100 countries on six continents. EA Sports will partner with the NBA and Euroleague Basketball to conduct a series of promotional activities leading up to the start of the event.