2016 NBA All-Star Game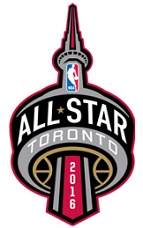 The AP reports: Oklahoma City Thunder guard Russell Westbrook has been named MVP of the 2016 All-Star game, giving him the award for the second straight season. Westbrook led the Western Conference with 31 points, eight rebounds and five assists in a 196-173 win over the Eastern Conference in Toronto.

AFP reports: In a free-wheeling offensive showcase, Los Angeles Lakers superstar Bryant scored a modest 10 points in his 18th and final turn as an All-Star before he retires at the end of his 20th season.

AFP reports: Golden State star Stephen Curry added 26 points for the West, who overcame a 41-point performance from Indiana Pacers forward Paul George on behalf of the East. George just missed the All-Star single-game record of 42 points set by Wilt Chamberlain in 1962 -- although Westbrook insisted the slight uptick in the West's defense in the waning seconds wasn't aimed at preventing George from surpassing the mark.

AFP reports: Westbrook joined Bob Pettit as the only players in All-Star Game history to win the MVP twice in a row, Pettit winning the honor in 1958 and sharing it with Elgin Baylor in 1959.

Yahoo Sports reports: George gruesomely broke his leg while playing in an exhibition game for USA Basketball in Las Vegas on Aug. 1, 2014. It also left his fellow participating NBA stars wincing in shock. The six-year NBA veteran was limited to six games last season. George also missed last season's All-Star Game in New York after three straight appearances. George returned to the All-Star Game on Sunday after being voted in as an East frontcourt starter from the fans. He scored a game-high 41 points after making 16 of 26 field goal attempts and record nine of 19 3-point attempts. And after George threw down an acrobatic reverse dunk late in the fourth quarter, there was a wince of respect this time from West All-Star center DeMarcus Cousins.

Yahoo Sports reports: George was one point shy of matching Hall of Famer Wilt Chamberlain's All-Star scoring record of 42 points set in 1962. George and East coach Tyronn Lue said they had no idea the record was that close. George expects to get "madder and madder" during his flight back to Indianapolis because he didn't break the coveted scoring record. "Had I known, I would have gone for the two on my last shot instead of going for the three," George said.

Yahoo/The Vertical reports: Even by All-Star Game standards, the defensive effort by both teams Sunday at Air Canada Centre was abominable, with a mind-boggling 369 points scored and 139 3-pointers attempted. But for Russell Westbrook and Paul George – two Southern California natives who grew up idolizing and mimicking the ultra-competitive Bryant and were unconcerned about simply surviving the game unharmed – the turnstile defense served as an invitation to assault the scoreboard and the record book.

Yahoo/The Vertical reports: Drake, the Toronto native, Raptors ambassador and unofficial host of the first All-Star Weekend outside of the United States, introduced the starters while wearing a custom leather jacket that read "Farewell Mamba" on the back. But Bryant and Westbrook were the only two players to step on the floor without first giving Drake a bro-hug. Bryant was too busy nodding and smiling at the raucous fans chanting his name; Westbrook was too busy doing the "hit dem folks" dance, frantically waving his arms and bobbing off the stage with a toothy grin.


2016 NBA ALL-STAR GAME PREVIEW INFO

Draymond Green and Klay Thompson of the Golden State Warriors headline the list of 14 players selected by the NBA's head coaches as reserves for the 2016 NBA All-Star Game. Green, a first-time selection, and Thompson, an All-Star for the second year in a row, join Western Conference starter Stephen Curry of Golden State to give the NBA-leading Warriors (42-4) three All-Stars for the first time since the 1975-76 season.

The 65th NBA All-Star Game will be televised by TNT at 8 p.m. ET on Sunday, Feb. 14 from Air Canada Centre in Toronto, the first All-Star Game held outside the U.S. The game will be seen by fans in more than 200 countries and territories and will be heard in more than 40 languages. TNT will air the All-Star Game in the U.S. for the 14th straight year, marking Turner Sports' 31st year of NBA All-Star coverage. Sportsnet ONE and TSN will simulcast the All-Star Game in Canada.

Along with Green and Thompson, the other West reserves are LaMarcus Aldridge (San Antonio Spurs), DeMarcus Cousins (Sacramento Kings), Anthony Davis (New Orleans Pelicans), James Harden (Houston Rockets) and Chris Paul (Los Angeles Clippers).

The Eastern Conference reserves are Chris Bosh (Miami Heat), Jimmy Butler (Chicago Bulls), DeMar DeRozan (Toronto Raptors), Andre Drummond (Detroit Pistons), Paul Millsap (Atlanta Hawks), Isaiah Thomas (Boston Celtics) and John Wall (Washington Wizards).

Curry, Green and Thompson comprise the Warriors' first trio of All-Stars since Rick Barry, Phil Smith and Jamaal Wilkes 40 years ago. Green (14.5 ppg, 9.4 rpg, 7.2 apg) leads the NBA in triple-doubles with eight, while Thompson (20.9 ppg) ranks second in three-pointers made with 140. Also for the West:

· Aldridge, in his first season with the Spurs (39-7), earns his fifth consecutive All-Star nod.

· Cousins, the only NBA player ranked in the top five in scoring (27.3 ppg) and rebounding (11.3 rpg), is an All-Star for the second straight season.

· Davis makes his third All-Star team in a row. He is the only NBA player averaging at least 20 points, 10 rebounds and two blocked shots.

· Harden, the NBA's second-leading scorer (27.5 ppg), is making his fourth consecutive trip to the All-Star Game since joining the Rockets in 2012.

· Paul has been chosen as an All-Star for the ninth straight year. He owns the highest assist average in All-Star Game history (12.9 apg).

In the East, Drummond and Thomas have been named All-Stars for the first time. Drummond, who leads the NBA in rebounding (15.2 rpg) and double-doubles (38), is Detroit's first All-Star selection since Allen Iverson in the 2008-09 season. Thomas, the 60th and final pick of NBA Draft 2011, is averaging career highs of 21.6 points (12th in the NBA) and 6.6 assists (ninth in the NBA).

Also for the East:

· Bosh, who spent his first seven seasons in Toronto, earns his 11th consecutive All-Star selection. Among active players, only Kobe Bryant (18 selections in a row), LeBron James (12) and Miami teammate Dwyane Wade (12) have longer current streaks.

· Butler, who is averaging a career-high 22.3 points (11th in the NBA), makes his second straight All-Star appearance.

· DeRozan, who is averaging a career-high 23.0 points (ninth in the NBA) and leads the league in points on drives, is an All-Star for the second time. DeRozan and Toronto teammate Kyle Lowry, an East starter, are set to become the first starting backcourt to play in the All-Star Game in their home city since the Los Angeles Lakers' Jerry West and Gail Goodrich in 1972.

· Millsap is making his third consecutive trip to the All-Star Game since joining the Hawks in 2013. He is scoring a career-high 18.3 points per game in his 10th season.

· Wall, the Kia NBA Eastern Conference Player of the Month for December, is an All-Star for the third year in a row.

The 14 reserves were chosen by the 30 NBA head coaches, who were asked to vote for seven players in their respective conferences -- two guards, three frontcourt players and two additional players at any position. They were not permitted to vote for players from their own team.

The starters in both conferences were selected through NBA All-Star Voting 2016 presented by Verizon. The East starters are Dwyane Wade (Heat), Kyle Lowry (Raptors), LeBron James (Cleveland Cavaliers), Paul George (Indiana Pacers) and Carmelo Anthony (New York Knicks). The West starters are Stephen Curry (Warriors), Russell Westbrook (Oklahoma City Thunder), Kobe Bryant (Los Angeles Lakers), Kevin Durant (Thunder) and Kawhi Leonard (Spurs).

NBA Commissioner Adam Silver will select the replacement for any player unable to participate in the All-Star Game. If the injured player is a starter, the head coach of that team will determine the replacement in the starting lineup.

The Spurs' Gregg Popovich and his staff will coach the West All-Stars, while the Cavaliers' Tyronn Lue and his staff will lead the East All-Stars.

2016 NBA EASTERN CONFERENCE ALL-STARS
No. Player (Team) Pos. Ht. Wt. Birthdate Prior to NBA All-Star
7 *Carmelo Anthony (NY) F 6-8 240 05/29/84 Syracuse 9
1 Chris Bosh (Mia) F 6-11 235 03/24/84 Georgia Tech 11
21 @Jimmy Butler (Chi) G 6-7 220 09/14/89 Marquette 2
10 DeMar DeRozan (Tor) G 6-7 220 08/07/89 Southern Cal 2
0 #Andre Drummond (Det)C 6-11 279 08/10/93 Connecticut 1
16 &Pau Gasol (Chi) F/C 7-0 250 07/06/80 FC Barcelona (Spain) 6
13 *Paul George (Ind) F 6-9 220 05/02/90 Fresno State 3
23 *LeBron James (Cle) F 6-8 250 12/30/84 St. Vincent/St. Mary HS 12
7 *Kyle Lowry (Tor) G 6-0 205 03/25/86 Villanova 2
4 Paul Millsap (Atl) F 6-8 246 02/10/85 Louisiana Tech 3
4 #Isaiah Thomas (Bos) G 5-9 185 02/07/89 Washington 1
3 *Dwyane Wade (Mia) G 6-4 220 01/17/82 Marquette 12
2 John Wall (Was) G 6-4 195 09/06/90 Kentucky 3

Head Coach: Tyronn Lue (Nebraska)
Assistant Coaches: Jim Boylan (Marquette); Bret Brielmaier (Arizona); Larry Drew (Missouri); James Posey (Xavier); Phil Handy (Hawaii), Mike Longabardi (Frostburg State)
Athletic Trainer: Scott McCullough and Ray Chow (Toronto Raptors)

*denotes starter
#denotes first-time selection
@denotes injured player
&denotes injury replacement

2016 NBA WESTERN CONFERENCE ALL-STARS
No. Player (Team) Pos. Ht. Wt. Birthdate Prior to NBA All-Star
12 LaMarcus Aldridge (SA) F 6-11 240 07/19/85 Texas 5
24 *Kobe Bryant (LAL) F 6-6 212 08/23/78 Lower Merion HS 18
15 DeMarcus Cousins (Sac) C 6-11 270 08/13/90 Kentucky 2
30 *Stephen Curry (GS) G 6-3 190 03/14/88 Davidson 3
23 Anthony Davis (NO) F 6-10 220 03/11/93 Kentucky 3
35 *Kevin Durant (OKC) F 6-9 240 09/29/88 Texas 7
23 #Draymond Green (GS) F 6-7 230 03/04/90 Michigan State 1
13 James Harden (Hou) G 6-5 225 08/26/89 Arizona State 4
2 *#Kawhi Leonard (SA) F 6-7 230 06/29/91 San Diego State 1
3 Chris Paul (LAC) G 6-0 175 05/06/85 Wake Forest 9
11 #Klay Thompson (GS) G 6-7 215 02/08/90 Washington State 2
0 *Russell Westbrook (OKC) G 6-3 200 11/12/88 UCLA 5

Head Coach: Gregg Popovich (Air Force Academy)
Assistant Coaches: Ime Udoka (Portland State); Chip Engelland (Duke); Chad Forcier (Seattle Pacific); Ettore Messina (Italy); James Borrego (San Diego); Becky Hammon (Colorado State)
Athletic Trainer: Will Sevening and Paul West (San Antonio Spurs)

*denotes starter
#denotes first-time selection
@denotes injured player
&denotes injury replacement


------------------------------------------

2015 NBA ALL-STAR GAME
February 15, 2015

Russell Westbrook scored 41 points, one shy of the All-Star record, and the Western Conference beat the East 163-158 on Sunday night. The Oklahoma City speedster had a record 27 points by halftime and closed out the scoring with two free throws, falling one point shy of Wilt Chamberlain's 42 points in the 1962 game. He was voted the game's MVP. The NBA's return to New York showed off everything about the Big Apple, and by the time Frank Sinatra's "New York, New York" played after the game, it was clear Westbrook was king of the hill. -- AP

"New York City is the greatest place in the world. And these are the best fans in the NBA," [Carmelo] Anthony told the crowd before the East's 163-158 loss to the West. The $124 million forward started and logged 30 minutes over four half-speed stints, scoring 14 points on just 6-for-20 shooting – including 11 of 13 misses from three-point range. Anthony also reiterated on TNT before the game that he has "made no decision" about a potential surgery date. "Like I said, I just want to at least just get a couple minutes out there, just for a couple minutes," Anthony said on Saturday. "And if I feel better, then the minutes get extended. But I'm not going to tell them I want to play this or want to play that. I'll just play it by ear." -- NY Daily News

James Harden added 29 points, eight rebounds and eight assists for the West, which built a 20-point lead in the first half and then pulled away after it was tied at 148 with a little more than 4 minutes remaining. LeBron James finished with 30 points, but couldn't lead the East to the victory in his favorite NBA arena. -- AP

Instead of Sunday's 64th All-Star Game being about John Wall setting a new record for assists Madison Square Garden, it shifted to Russell Westbrook establishing a new benchmark for points in 53 years. Neither came to fruition as the West beat the East 163-158 behind a game-high 41 from Westbrook (Thunder), who made 16 of 28 shots in just 23 minutes as a reserve. He was one point shy of Wilt Chamberlain's 42 in 1962. Westbrook was named the game's MVP. Wall fell significantly short of his stated goal, which was to eclipse Magic Johnson's all-time assist record of 22 set in 1984. He finished with seven -- five coming in the first half -- and 19 points as a first-time starter. -- CSN Washington

LaMarcus Aldridge gave the West a lead 19-18 lead with a three-pointer at the 6:13 mark that sparked a 12-0 run. During the stretch, Curry had three points and an assist on a play that he started by controlling the ball with a soccer header before whipping a pass to Aldridge for a corner three. But that wasn't even the best of Curry's three first-quarter assists. On one sequence, he stole the rebound from John Wall, dribbled behind his back along the baseline into the lane and flipped a no-look lob to James Harden for a dunk. -- San Francisco Chronicle

James scored 30 points in the loss to move into second place all time in All-Star scoring history with 278 career points. He trails only the Los Angeles Lakers' Kobe Bryant, who was voted a starter to this game but sat out with a torn rotator cuff. Bryant did not even make the trip to New York for All-Star weekend. Cavs guard Kyrie Irving, voted the Most Valuable Player last season, had a quiet 11 points, six rebounds and five assists in 19 minutes. -- Akron Beacon Journal

Pau and Marc Gasol became the first brothers in NBA history to start an All-Star Game, with Pau playing for the East and Marc playing for the West. Their feat promoted other players to think about what it would be like to share such a moment with their sibling. "That would be crazy, man," said Russell Westbrook, who has one younger brother named Ray. "It'd be crazy. When you have a sibling, to be able to do something with your brother, someone that you love dearly, it'd be definitely exciting." -- Oklahoman

They asked for it. They got it. It didn't take long – just 8:32 – for all four Hawks to take to the court together in the NBA All-Star Game. They made the most of their 3:28 first-quarter minutes. The Hawks players combined for 13 points – Kyle Korver (9), Al Horford (2) and Jeff Teague (2). Only Paul Millsap did not score. -- Atlanta Journal Constitution

On Westbrook: "He's unbelievable. He's an unbelievable talent in our league. His motor, his athleticism, his demeanor about how he approaches the game, it's all great," said [LeBron] James, who led the East with 30 points. "And it's great for our league. And he showed that tonight, showcased it on the big stage." -- NY Daily News

Westbrook received 11-of-13 first-place votes in the MVP balloting. … .Westbrook's 27 points before halftime are an All-Star record for a half. … LeBron James is now second on the all-time All-Star scoring list with 278 points. He trails only Kobe Bryant (280). Sunday, he passed Kareem Abdul-Jabbar (251) and Michael Jordan (262). … Both sides combined for 48 3-pointers to shatter the record of 30 set last year. The East had 23, the West a record 25. … The Spurs' Tim Duncan joined Abdul-Jabbar as the only players to appear in 15 All-Star games. Duncan (15) still needs three more to tie Kareem (18). … Chris Paul had a game-high 15 assists. -- NY Post


--------------------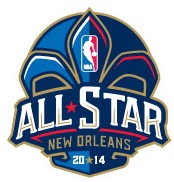 2014 NBA ALL-STAR GAME ROUNDUP

All the pre-game chatter was about whether it was going to be LeBron James or Kevin Durant who took home the precious Most Valuable Player hardware in Sunday's NBA All-Star game. Someone forgot to tell Cleveland's Kyrie Irving that it was only a two-man race. Irving poured in 24 of his team-high 31 points in the second half to guide the East to a 163-155 win over the West. Afterwards, James was the first to tip his hat to the Cavaliers' second-year guard. "Kyrie is special,'' said James, who had 22 points, seven rebounds and seven assists. "It's just that simple. -- Fort Worth Star-Telegram Blog

On Kyrie Irving: The Cleveland Cavaliers' point guard was selected MVP of the NBA All-Star game Sunday night after scoring 31 points, racking up 14 assists and playing with the energy required to rally the Eastern Conference from an 18-point deficit in the second half of its 163-155 victory over the West."It was definitely special, just being out there with all these great athletes," Irving said. "There's so many different MVPs out there on that floor, and to be named MVP amongst all those great stars is truly an honor." Irving missed only three of the 17 shots he attempted, and all of those were from 3-point range, where he was 3 for 6. -- Associated Press

The show didn't end for John Wall when he grabbed the ball from Washington Wizardsmascot G-Wiz and threw down a double-pump reverse jam to claim the first slam dunk title in franchise history. His celebratory dance with Indiana Pacers forward Paul George late Saturday was merely the appetizer for the event for which he has waited four years to be a participant. Though he felt he should've been starting, Wall made the most of his limited time off the bench, producing several highlight plays while scoring 12 points in 15 minutes as the Eastern Conference defeated the Western Conference, 163-155, in the 63rd annual All-Star Game at Smoothie King Center. Though he was a spectator for the final stretch of the fourth quarter, Wall played a key role in helping the East rally from an 18-point second-half deficit and also finished with the most points scored in an all-star game by a Wizards player since Michael Jordan had 20 in his 14th and final appearance in 2003. -- Washington Post

2013 NBA ALL-STAR GAME



West beats East 143-138 in 2013 NBA All-Star Game

LeBron James had the ball in his hands and a comeback on his mind.

Kobe Bryant blocked those plans - twice.

He may not leap like Blake Griffin, but Bryant can still get up when he needs to, especially when the defenseless part of the All-Star game is over and it's time to stop somebody - even the league's best player.

Bryant blocked James' jumper, turning it into a dunk by Kevin Durant that helped the Western Conference put away the East 143-138 on Sunday.

On Michael Jordan's 50th birthday, the players most often compared to him turned the final minutes into a 1-on-1 duel, and it went to Bryant - the guy Jordan said he'd pick between the two.

''It was a great block,'' Durant said. ''I haven't really seen any MVP get a jumper blocked like that. It was a really great play.''

Chris Paul had 20 points, 15 assists and won MVP honors, and Durant scored 30 points. Griffin finished with 19, joining his Clippers teammate, Paul, in creating Lob City deep in the heart of Texas...

Bryant added a second late block of James, the MVP of the 2006 game here after leading a big East comeback. This time, he scored 19 points but shot only 7 of 18 after making 60 percent of his shots in six straight games before the break...

Carmelo Anthony led the East with 26 points and 12 rebounds...

[James] Harden had 15 points in his home arena, where the sights of the game were on the floor and the sounds were at the rim - which shook repeatedly after thunderous dunks for most of the game before, as usual, players tried to make some stops down the stretch...

Bryant finished with only nine points but had eight assists. Griffin shot 9 of 11 from the field and didn't miss until trying to violently throw one down from a few feet away from the basket.

Indiana's Paul George scored 17 and Kyrie Irving had 15 for the East.

[Chris] Bosh finished 3 of 9. Wade had 21 points on 10-of-13 shooting, the best performance of the three Heat players in the starting lineup.

-- Reported by Brian Mahoney of the Associated Press

"You just want to play fast," Paul said after carving up the East with 20 points and 15 assists to win the Most Valuable Player Award in the annual All-Star game on Sunday.

"I like to throw the lob. I like to see guys hit threes. When we're out on the court with all that fire power, why wouldn't you want to make passes?

"You've got KD (Durant) filling one of the lanes, you've got Blake, Kobe on the wing. There's nothing like it."

Paul led the Western Conference to a 143-138 victory, hitting seven-of-10 shots from the floor to complement his pass-first game that had the East playing catch-up all night.

LeBron James, the high-scoring Miami forward who bagged 19 points in a losing effort, called Paul's performance "unbelievable".

"He's one of the best players we have in this league," offered James. "The number one point guard. It doesn't surprise me what he did."

-- Reported by Steve Ginsburg of Reuters

Paul told Durant, the NBA's leading scorer and last year's All-Star game MVP, to expect to see the ball in his hands.

"I told KD early in the first quarter, 'Man, if they score anything, you run. I'll get you the ball, you score. I want to be the one to give it to you,'" recalled the Los Angeles Clippers guard.

"In games like this it's so up-tempo and fast paced, a guy like me that's a facilitator, I enjoy it."

Carmelo Anthony of the New York Knicks paced the East with 26 points, followed by Miami guard Dwyane Wade, who had 21, and LeBron James, who added 19.

Durant hit 13-of-24 shots to lead the West to a third straight victory in the annual showcase that features little defense, a lot of dunks, and plenty of assists for anyone who decides to pass.

-- Reported by Steve Ginsburg of Reuters

Following three quarters of recreational defensive intensity, the closing stretch of Sunday's NBA All-Star Game mimicked many of the fourth quarters of All-Star games past: The players got serious about winning.

And as is usually the case, that effort was most evident on defense. While Oklahoma City Thunder forward Kevin Durant pushed the Western Conference's lead to 136-126 with his late breakaway dunk, it was Los Angeles Lakers guard Kobe Bryant who ignited the fast break with his block of Heat forward LeBron James.

"I'm known for my defense," said Bryant, who recorded two blocked shots and two steals in the Western Conference's 143-138 win over the Eastern Conference. "I can defend. I'm pretty smart with my defense."

All-Star Game rookies were served noticed of the shift in seriousness once the starters began trickling back into the game midway through the fourth quarter. Following a first half punctuated by alley-oop dunks, the fourth quarter served as a stark contrast, particularly on defense.

-- Reported by MK Bower of the Sports Xchange

---------------------------------------------

2012 NBA ALL-STAR GAME ROUNDUP
Feb. 26, 2012

The AP reports: Kobe Bryant got the scoring record, Kevin Durant the MVP, and the West got the win -- barely. Even after that duo piled up the points, the NBA All-Star game came down to a defensive play. A bloodied Bryant scored 27 points, moving past Michael Jordan as the career scoring leader in the game, Durant had 36 in an MVP performance, and Blake Griffin's interception of LeBron James' pass secured the Western Conference's 152-149 win over the East on Sunday night.

More from the AP: Bryant shook off Dwyane Wade's hard smack to his nose and was still on the floor to say something to James after he threw away a pass in the closing records. "You know, you have some of the best competitors out on the floor at the same time," James said. "Not only me and Kobe, but D-Wade and Durant and (Carmelo Anthony) and (Chris Paul), and all the rest of the guys. We all wanted to win, and it came down to the last minute or last seconds." James and the East cut a 21-point deficit to one in the closing seconds, but weren't able to move in front. James had 36 points and fellow Heat star Wade finished with a triple-double. "It was fun," Durant said. "That's the type of All-Star game you want to see."

More from the AP: Griffin scored 22 points for the West, which rang up 88 points in the first half, setting an All-Star record. But he won the game with his defense, picking off James' pass when the East had a chance to tie in the final seconds. "When I tried to throw it late, that's what usually happens and it results in a turnover," James said. "Definitely wish I could have that one back." Griffin then hit one free throw with 1.1 seconds left, and Wade was off on a 3-point attempt from the corner. He finished with 24 points, 10 rebounds and 10 assists, joining Jordan and James as the only players with All-Star game triple-doubles.

The Philadelphia Daily News reports: Though exhibiting one's abilities takes priority, competitive juices still get stirred. When the East entered the court for the second half, there was a certain blend of seriousness surrounding the players, particularly Miami Heat teammates Wade and LeBron James. Those two were instrumental in leading a 26-14 run to begin the second half that got the East to within seven at 102-95. Another East spurt late in the fourth made it interesting at the end, but the East's Deron Williams missed an open three-pointer and Blake Griffin sealed it with a steal and a foul shot with 1.1 seconds remaining. "Well, I don't know if there was much defense played early on," East coach Tom Thibodeau said. "But it was a great game and everything that happened you sort of anticipated. The West played very well. They got off to the lead and I thought our guys got going in the second half. And then it came down to the end, and I thought both teams played extremely hard in the fourth quarter and both teams were trying to win."

The Miami Herald reports: Even though James' night ended with a turnover, he had arguably the best game of any player on either team. James finished with 36 points, seven assists and six rebounds. James' six three-pointers tied Mark Price, who made six shots from beyond the arc in 1993, for the most in All-Star game history. It wasn't enough for James to win the MVP, however, as Durant earned that honor with 36 points, seven rebounds and three assists. "It's an exciting feeling to be named an All-Star, but to step it up another level and become an MVP is something that as a kid you dream about," Durant said. Wade also had a memorable night, recording 24 points, 10 assists and 10 rebounds for the third triple-double in All-Star history. James started the excitement three minutes into the game with a spectacular, left-handed windmill dunk. Of James' 13 first half points, 10 came on dunks, three of which were assisted by Wade.

NBA ALL-STAR GAME PREVIEW

Perennial All-Stars Paul Pierce (Boston Celtics) and Dirk Nowitzki (Dallas Mavericks) have been chosen as All-Stars for the 10th and 11th time, respectively, and headline the list of 14 players that have been selected by the coaches as reserves for the 2012 NBA All-Star Game, the NBA announced today.

The 2012 NBA All-Star Game, which will air live at 7 p.m. ET on TNT and ESPN Radio in the U.S., and reach fans in more than 200 countries and territories in more than 40 languages, will be played at Amway Center in Orlando on Sunday, Feb. 26, 2012.

Joining Pierce as reserves on the East squad are Chris Bosh (Miami Heat), Luol Deng (Chicago Bulls), Roy Hibbert (Indiana Pacers), Andre Iguodala (Philadelphia 76ers), Rajon Rondo* (Boston Celtics), and Deron Williams (New Jersey Nets). Deng, Hibbert and Iguodala are first-time All-Stars, while Williams earns his third trip, Johnson his sixth, and Bosh his seventh.

(* Rondo was picked as a replacement for injured Atlanta Hawks guard Joe Johnson)

Nowitzki, whose 11 selections are consecutive, is joined on the West team by reserves LaMarcus Aldridge (Portland Trail Blazers), Marc Gasol (Memphis Grizzlies), Kevin Love (Minnesota Timberwolves), Steve Nash (Phoenix Suns), Tony Parker (San Antonio Spurs), and Russell Westbrook (Oklahoma City Thunder). For Aldridge and Gasol, this marks their first All-Star selection. It's the second All-Star nod for both Love and Westbrook, while Parker goes for the fourth time, and Nash, at 38 the oldest player in this year's game, is an All-Star for the eighth time.

Selected to start in the East -- through the 2012 NBA All-Star Balloting presented by Sprint – were Derrick Rose (Bulls), LeBron James and Dwyane Wade (Heat), Carmelo Anthony (New York Knicks), and Dwight Howard (Orlando Magic). Voted to start for the West were Kobe Bryant and Andrew Bynum (Los Angeles Lakers), Blake Griffin and Chris Paul (Los Angeles Clippers), and Kevin Durant (Thunder).

Including Bynum, this year's midseason classic will feature five first-time All-Stars. On the other end of the spectrum, Bryant ties Jerry West, Karl Malone, and Shaquille O'Neal for the most consecutive All-Star nods in NBA history with 14.

NBA Commissioner David Stern will select the replacement for any player unable to participate in the All-Star Game. If the injured player is a starter, the head coach of that team will determine who replaces him in the starting lineup.

The 14 players selected -- seven each from the Eastern and Western Conferences -- were chosen by the 30 NBA head coaches, who were asked to vote for seven players in their respective conferences -- two guards, two forwards, one center and two players regardless of position. They were not permitted to vote for players from their own team.

The East and West All-Star coaches and coaching staffs will be determined by the best record in the conference through games played Feb. 15. The Celtics' Doc Rivers and San Antonio's Gregg Popovich coached the East and West All-Stars, respectively, last season and are therefore ineligible for the honor this year.

NBA All-Star 2012 in Orlando will bring together some of the most talented and passionate players in the league's history for a global celebration of the game. TNT will televise the All-Star Game for a 10th consecutive year, marking Turner Sports' 28th year of All-Star coverage. NBA All-Star Saturday Night presented by State Farm will feature the Haier Shooting Stars, Taco Bell Skills Challenge, Foot Locker Three-Point Contest, and Sprite Slam Dunk. Other events at NBA All-Star 2012 will include the NBA Rising Stars Challenge, Sprint NBA All-Star Celebrity Game, and NBA All-Star Jam Session. Orlando also hosted NBA All-Star in 1992.

2012 EASTERN CONFERENCE ALL-STARS

No. Player (Team) Pos. Ht. Wt. Birthdate Home Country All-Star Selections
15 *Carmelo Anthony (New York) F 6-8 230 05/29/84 Syracuse/USA 5
1 Chris Bosh (Miami) F/C 6-10 230 03/24/84 Georgia Tech/USA 7
9 #Luol Deng (Chicago) F 6-9 220 04/16/85 Duke/Sudan 1
55 #Roy Hibbert (Indiana) C 7-2 260 12/11/86 Georgetown/USA 1
12 *Dwight Howard (Orlando) C 6-11 265 12/08/85 SW Atlanta Christian Aca./USA 6
9 #Andre Iguodala (Philadelphia) F-G 6-6 207 01/28/84 Arizona/USA 1
6 *LeBron James (Miami) F 6-8 250 12/30/84 St. Vincent/St. Mary HS/USA 8
2 Joe Johnson (Atlanta) G 6-7 235 06/29/81 Arkansas/USA 6
34 Paul Pierce (Boston) F 6-7 235 10/13/77 Kansas/USA 10
1 *Derrick Rose (Chicago) G 6-3 190 10/04/88 Memphis/USA 3
3 *Dwyane Wade (Miami) G 6-4 210 01/17/82 Marquette/USA 8
8 Deron Williams (New Jersey) G 6-3 209 06/26/84 Illinois/USA 3

Head Coach: TBD
Assistant Coaches: TBD
Athletic Trainer: Keon Weise (Orlando)

2012 WESTERN CONFERENCE ALL-STARS

No. Player (Team) Pos. Ht. Wt. Birthdate Home Country All-Star Selections
24 #LaMarcus Aldridge (Portland) F 6-11 240 07/19/85 Texas/USA 1
24 *Kobe Bryant (L.A. Lakers) G 6-6 205 08/23/78 Lower Merion HS /USA 14
17 *#Andrew Bynum (L.A. Lakers) C 7-0 285 10/27/87 St. Joseph HS/USA 1
35 *Kevin Durant (OKC) F 6-9 230 09/29/88 Texas/USA 3
33 #Marc Gasol (Memphis) C 7-1 265 01/29/85 FC Barcelona / Spain 1
32 *Blake Griffin (L.A. Clippers) F 6-10 251 03/16/89 Oklahoma/USA 2
42 Kevin Love (Minnesota) F-C 6-10 260 09/07/88 UCLA/USA 2
13 Steve Nash (Phoenix) G 6-3 178 02/07/74 Santa Clara/USA 8
41 Dirk Nowizki (Dallas) F 7-0 245 06/19/78 DJK Wurzburg / Germany 11
9 Tony Parker (San Antonio) G 6-2 185 05/17/82 Paris BR/France 4
3 *Chris Paul (L.A. Clippers) G 6-0 175 05/06/85 Wake Forest/USA 5
0 Russell Westbrook (OKC) G 6-3 211 11/12/88 UCLA/USA 2

Head Coach: TBD
Assistant Coaches: TBD
Athletic Trainer: Jay Jensen (Portland)

*denotes starter
#denotes first-time selection




---
---
---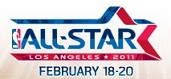 Behind a huge game from Kobe Bryant, the West beat the East 148-143 to win the 2011 NBA All-Star game, which took place in the Staples Center in Los Angeles, CA.

The AP reports:

LeBron James racked up a silky-smooth triple-double. Kevin Durant dropped 34 points in 30 minutes. Amare Stoudemire slammed and jammed his way through Staples Center for 29 points.

And the NBA's younger stars still were thrilled when Kobe Bryant took home one more MVP trophy from the All-Star game Sunday night.

"Everyone wanted him to get the MVP," said Miami's Dwyane Wade, last season's MVP. "He came out very aggressive, as aggressive as I've seen anybody in an All-Star game."

Bryant won his record-tying fourth All-Star MVP award Sunday night with 37 points and 14 rebounds in the West's 148-143 win over the East. Bryant was well aware he had a chance to tie Bob Pettit's mark — and so were his fellow All-Stars.

ESPN (John Hollinger) reports:

We haven't had a Kobe vs. LeBron battle in June yet, but we got a preview of what it might look like here in February. The West's wild 148-143 in the 2011 All-Star Game at Staples Center -- the highest-scoring regulation game in history -- provided a harbinger of how exciting such a showdown might be as each dominated long stretches of the game.

And that's where the fun begins. Because when you look past all the spectacle of the NBA All-Star Game, the really interesting part is when it gets a little nitty-gritty. Combining the Kobe-LeBron battle with the close finish, and spiking it with lingering Lakers-Celtics bitterness and the Staples Center location, all the necessary ingredients were there.

More on the L.A.-Boston animus in a bit, but let's start with the finish. There were only two players apiece on the court from Los Angeles and Miami during the stretch win, but it turned into a Lakers-Heat battle anyway -- with the final score serving as a sort of proxy war for the MVP honors between Kobe Bryant and LeBron James. And unlike most years, the crowd had a genuine preference, pulling for the West enough that at times it felt like a "road" game for the East.

Bryant ultimately prevailed, with game-highs of 37 points and 14 rebounds. But not before James almost single-handedly brought the East back from a 17-point deficit with a series of full-speed end-to-end bursts that ended with him hurtling toward the basket and drawing fouls, scoring or both. James had 14 points, four rebounds and three assists in the fourth quarter alone, bringing his side within two before Kevin Durant quashed the rally with back-to-back jumpers.

James finished with only the second triple-double in All-Star Game history with 29 points, 12 rebounds and 10 assists; Michael Jordan was the first. Unfortunately, his lone error in the stretch run may have been the costliest -- down four with 45 seconds left, he passed up an open 3-pointer to kick the ball to Miami teammate Chris Bosh, who missed a wild 3 of his own that effectively ended the East's rally.

Sports Illustrated (Ian Thomsen) reports:

The contrast between the host and his guests was the story of the game. The Eastern starters lined up along the scorer's table and tossed chalk dust in the air in mimicry of LeBron James. Within seven minutes they were trailing 21-10, and the East would never overcome that deficit. "He went for it early," said East coach Doc Rivers of Bryant. "You could see the guys from here (in Los Angeles), they had a little more juice into the game. The problem with that is they were all in the West, and that became a problem for the East."

Others took a different view of the game than Bryant. The three players from Miami appeared to experience no friction while sharing the ball and the bench with four opponents and the entire coaching staff of the East-leading Celtics. "When we have a break, we don't bring all of that stuff with us," said Heat forward Chris Bosh. "We don't take our work with us."

So how did he explain Bryant? "That's Kobe," he said. "That's how Kobe is. I've seen him play (against) kids hard.''

There was a lot of "That's Kobe" talk going around Sunday as his peers made sense of Bryant's continuing impact. He has been at this now for 15 NBA seasons, and his impact remains invaluable. This could have turned into an unofficial dunking competition, but instead Bryant turned the exhibition into a game of serious moments. Of course it helped that he was on the court in the first quarter when Rivers chose to insert his quartet of Celtics all at once, turning the anthem of cheers into boos from the L.A. crowd. "I thought that was beautiful," Rivers said. "You knew they would not get a rousing ovation. Our guys got a good laugh out of it."

Reuters reports:

During one dominant sequence in the third, Bryant threw down a two-handed dunk over James then swished a quick three-pointer that drew a roar from the crowd, which included Jay-Z and Beyonce, Hall of Fame players Clyde Drexler and David Robinson as well as Aerosmith's Steven Tyler.

"He wanted to win the MVP, he wasn't going to pass the ball. But that's Kobe," Stoudemire said.

The only player drawing cheers equal to Bryant's was Los Angeles Clippers rookie Blake Griffin, who captured the Slam Dunk Contest a day earlier and finished with eight points.

The AP reports:

Wade, who finished with 14 points, twisted his right ankle during the game, something that first happened against Boston before the All-Star break.

"I just rolled it a little bit," he said. "I've got a strong ankle, so I'm not worried too much."

Bosh had 14 points. Allen finished with 12 points and Garnett four, while Pierce and Rondo had six points each.

Boston and Miami come out of the break as the East's top two teams, but Bosh said it wasn't weird playing with his rivals.

"We take breaks from that," he said. "We're competitive, everybody's competitive, but we don't carry that competitiveness with us off the court. Guys just want to relax, crack some jokes and have a good time."

Much more coming Monday.


---
NBA ALL-STAR GAME PREVIEW
The 2011 NBA All-Star Game is Sunday, February 20 at 8 p.m. ET, in the Staples Center in Los Angeles, California.

With the usual star-studded lineups, both the East and West squads are as nasty as ever this year. The NBA All-Star game should be extremely competitive, though if you force me to pick a winner, I'm rolling with the West.

Check out the lineups:

NBA All-Star Game East starters: Derrick Rose and Dwyane Wade at guard, LeBron James and Amare Stoudemire at forward, and Dwight Howard at center.

NBA All-Star game West starters: Chris Paul and Kobe Bryant at guard, Kevin Durant and Carmelo Anthony at forward, and a replacement for Yao Ming starting at center (Kevin Love was named as the replacement for Yao Ming, but West coach Gregg Popovich gets to choose any bench player he wants to start at center.)

The All-Star starters are fierce, right? With just a little bit of chemistry (or some nice clearouts), either of these lineups can do serious damage. But tons of reserves get big minutes as well, and I like the West reserves more than the East's.

2011 NBA All-Star game benches:

East reserves: Rajon Rondo, Ray Allen, Joe Johnson, Paul Pierce, Chris Bosh, Kevin Garnett and Al Horford.

West reserves: Russell Westbrook, Deron Williams, Manu Ginobili, Dirk Nowitzki, Pau Gasol, Blake Griffin and Tim Duncan.

When pondering NBA All-Star game players, I like to think of the players that may have a chip on their shoulder. Something to prove. The dudes who are pisse doff. And I look at the West and I can see several of these guys going out of their way to step up and unleash something special. Westbrook often plays with a chip on his shoulder. D-Will is mad about recent Jazz losses. Ginobili is an underdog in the eyes of many. Dirk is probably still mad at losing in the NBA Finals a few years back. And Blake Griffin is intense when eating breakfast, let alone when playing basketball.

The beauty of the NBA All-Star game is, anything can happen. Every player here can step up to lead a team. So, predictions don't really matter. Just enjoy the game.

InsideHoops.com is here in Los Angeles and covering every aspect of the big weekend.




---
2010 NBA ALL-STAR GAME
February 14, 2010

The 2010 NBA All-Star game is Sunday, February 14 at 8 p.m. ET on TNT television. And instead of taking place in a regular basketball arena, this year's event is in the new Dallas Cowboys football stadium.

The East NBA All-Stars wound up beating the West 141-139 in a fantastic, fun All-Star game that got better each minute it went along. Played in front of a record-setting crowd of 108,713, the All-Star MVP award went to East guard Dwyane Wade. Read the raw, totally unedited notes below, taken live as the game took place.

Wade finished with 28 points (12-of-16 shooting), six rebounds, 11 assists (3 turnovers) and five steals.

Also for the East, LeBron James had 25 points (just 10-of-22), five rebounds, six assists and four steals. Chris BOsh came off the bench for 23 points (9-of-16), 10 rebounds and two steals. Dwight Howard had 17 points, five rebounds and three blocks.

For the West, Carmelo Anthony scored 27 (13-of-22 shooting) with 10 rebounds. Dirk Nowitzki had 22 (8-of-15) with four rebounds. Chauncey Billups had 17 (6-of-11, 5-of-8 three-pointers) and five assists. Kevin Durant had 15 (but on 14 shots). Pau Gasol had 13. Steve Nash scored just four, but dished 13 assists.

This was InsideHoops.com's favorite NBA All-Star game in years.

LIVE 2010 NBA ALL-STAR GAME NOTES

InsideHoops.com presents raw, unedited All-Star game notes taken live as the action happenened. Read below, and discuss the game with other fans in our NBA forum.

It's 15 minutes before introductions, and the stadium is expected to fill up with 95,000 or more fans.

Everyone who cares about basketball is hoping this is a really fun game, because, let's face it, All-Star Saturday was a bit disappointing due to the slam dunk contest not quite living up to its usual lofty expectations.

Sideline broadcaster Craig Sager, known for his outrageous suits, today is wearing a dark blue (possibly dark purple) blazer with a very bright red shirt. For him, it's actually relatively tame. Still, television viewers are advised to adjust their contrast setting to "emergency."

To play a basketball game in a football stadium must be wild. "This is indescribable," said starting West All-Star guard Steve Nash (Phoenix Suns) before the game. "To play in front of 100,000 people is unforgettable."

Lines outside Cowboys Stadium are apparently very long. People are still trying to get into the arena, and it's already 8:11 p.m. ET.

The big scoreboard screens above centercourt in Cowboys stadium are bigger than the actual basketball court. Seriously.

At 8:20 p.m. ET, Usher, decked in what in my eyes is questionable black leather, aside for a white shirt, comes out to perform. Surrounded by teenage-looking guy dancers who are also sticking with the black/white clothing them, he sounds good.

NBA ALL-STAR GAME PLAYER INTRODUCTIONS

East coach Stan Van Gundy was introduced first, followed in order by Al Horford, Rajon Rondo, Paul Pierce, Gerald wallace, Derrick Rose, David Lee and Chris Bosh.

And now, the Eastern conference starters: At guard, Dwyane Wade and Joe Johnson. At center, Dwight Howard. And at forward, Kevin Garnett and LeBron James. The starters are having some fun, dancing around a bit after being introduced.

usher is back, performing again. This time with a mix of guy and very lovely female dancers clad in all-black outfits, he starts with one song, and then goes into a famous hit I forget the name of.

Introduced for the West, in order, is coach George Karl, followed by injured guard Chris Paul, who walked out with the help of a crutch, and then Brandon Roy and Kobe Bryant. Sizable cheers erupted for Kobe.

The introductions continued with Chauncey Billups, Chris Kaman, Pau Gasol, Zach Randolph, Kevin Durant, Deron Williams and Jason Kidd, who got massive applause from his local fans.

And now, at 8:34 p.m. ET, the West starters: At forward, Carmelo Anthony and Tim Duncan (who busted out an actual smile!). At center, Amar'e Stoudemire. And at guard, Steve Nash and Dirk Nowitzki. (Although he's a forward, in this game Nowitzki is being used as a starting guard in place of the injured Bryant. If a starter is hurt, the All-Star team's coach chooses which reserve gets bumped up as a starter. So, coach Karl picked Dirk.)

NBA ALL-STAR GAME NATIONAL ANTHEMS

Singing Canada's national anthem at 8:36 p.m. ET are The Canadian Tenors.

Singing the Star Spangled Banner, Gretchen Wilson, who was accompanied by electric guitar. Love it. Her voice was great, and the guitar rocked.

Just before tipoff, Nowitzki came out and spoke on microphone to the entire stadium: "Welcome to Dallas, everybody. Thanks for coming out and making this a special day. Enjoy the show. And I want to say, everything's bigger in Texas. Thank you guys."

FIRST QUARTER

The jump-ball was between Duncan and Howard, and it was controlled by the West. And mere seconds later, the game's first basket came very quickly via a Nowitzki right-side jumper. And then he swished it again next possession. Nice start. And then a Carmelo Anthony offensive put-back quickly puts the West up 6-0, at 8:52 p.m. ET.

Joe Johnson forces a tough, contested shot for the East that misses. They're 0-of-4 to start. They finally get on the board with a LeBron three-pointer.

The game's first small highlight came off a West miss that was flushed home from Amar'e Stoudemire, who came down the middle of the paint unguarded.

And the first big highlight came compliments of Dwyane Wade, who drove, bumped Nash away, threw it to himself off the backboard and slammed home something nasty.

LeBron forces a tough, contested fadeaway and misses. Tough shots for the East. Easy opportunities for the West, who lead 14-9 at 7:32.

A three from Dwight Howard! From the top of the key. That was hot. Howard made sure to make sure East (and Magic) coach Stan Van Gundy saw it. Next play, Howard tosses another outside jumper, but this one misses. And the following possession, Howard caught a feed near the basket from a cutting Garnett and put it in, plus the foul.

Carmelo Anthony is a silent assassin so far, tossing in eight points without anyone noticing.

LeBron moves, and a slicing Wade feeds him, pulling the East to within one. The game's first timeout is at 5:44. Howard has eight points, Melo has eight with four rebounds, Stoudemire has six points, and Wade has four assists.

Big dunk time: LeBron fired a shot, Chris Bosh was right under the basket, rose up and flushed it. And a play later, Rajon Rondo, who swiped an inbound pass for a layup, alley-ooped Howard. But Melo quickly answered, leading to a timeout with the East up one.

Melo isn't so silent anymore. He's jacking lots of shots.

Fans aren't too loud at this thing. They're mostly sitting, chillin out, taking it all in. Or, they're still in shock from seeing Darryl Dawkins' suit yesterday.

With 2:35 left in the quarter, Kevin Durant entered.

At 2:36, Durant has 38 points. JUST KIDDING. He hasn't scored yet. But he's Kevin friggin' Durant, so it's not impossible.

Both teams are tossing in fairly easy, uncontested shots to wrap up the quarter. Nothing worth noting. Final shot of the first quarter: Rondo drove, flipped it to Howard in the paint as time expired with no shot being fired.

End of first quarter: East 37, West 34. D-Howard has 11 points, LeBron six (on 2-of-6 shooting) and Pierce has five. Wade has four assists. For the West, Melo shot 6-of-11 for 13 points with five rebounds. No other west player took more than four shots. Stoudemire has six points.

SECOND QUARTER

Kevin Durant is putting his name on this map, tossing in a few buckets. Also, David Lee is in.

The defensive intensity is the exact opposite of the intensity Jerome James exhibits when attacking buckets of cheeseburgers for breakfast each morning.

Deron Williams is catching fire. He flushes home a dunk, and uses a defender being under him as an excuse to not only hang on the rim but do a chin-up. Sort of how I do out at the playground when dunking over NBA players in the summertime. Or so I wish.

Gasol is helping the West. He has nine points and three rebounds.

Wade is doing it. Flushing home a nasty dunk after driving right past apathetic defenders, he has eight points and six assists.

InsideHoops.com 2010 NBA All-Star MVP watch: Right now the top candidate is Wade, followed by Howard, Bosh, Melo and maybe Pau Gasol.

During a timeout, there's a stoppage so Derek Fisher (NBA Players Association) can parade some smiling kids in blue NBA Cares shirts around. To promote NBA Cares. And yes, the NBA does care and they do a great job with helping people out. Though, fans at this game care about basketball, not other stuff.

David Lee (East) cuts, and Wade spots him for a dunk. Lee knows cutting. And Wade is showing nice passing skills today.

Who just played actual defense in an NBA All-Star game? Al Horford did, which shouldn't surprise anyone.

Durant cuts, and D-Will flips it to him, putting the West up 53-51 at 6:40 in the second quarter.

Pretty much any player who actually cuts in this game and gets fed the ball while cutting winds up scoring. This is not shocking.

I bet Durant drops 30, maybe 40 in bunches of future All-Star games.

At 1:00 the fast break of the game was LeBron, adjusting in air before flipping to Bosh, who went behind-the-back to Derrick Rose for the bucket.

Halftime: East 76, West 69

For the East, LeBron James has 11 points, three rebounds and three assists. Dwight Howard has 11 points. D-Wade has 10 points and seven assists. And Bosh has 10 points and 6 rebounds.

For the West, Carmelo Anthon has 17 points (8-of-14) and eight rebounds. Kevin Durant has 10 points (but on 5-of-11 shooting). Nash has no points but seven assists.

The East is shooting 59.6%, the West 49.2%. And the West is just 2-of-9 three-pointers. The West has 31 rebounds, the East 23. Assists are almost even.

HALFTIME SHOW

During halftime, Shakira came out, didn't shake those hips too hard (perhaps to protect the innocent eyes of young viewers), and sang some fun songs that I've forgotten already.

If I ran NBA All-Star weekend, Shakira would dance at halfcourt throughout the entire game.

Next, Alicia Keys performed, and did a nice job, though she seems to struggle a bit with some parts of the "Empire State of Mind" song that she's become known for thanks to Jay-Z's hit.

Overall, a good show.

THIRD QUARTER

NBA Cares should proudly announce they shielded 5,000 children from viewing Craig Sager and Darryl Dawkins' suits.

At 8:21, the East ran a fast break, led by Wade, who went down the middle and flipped it up to Dwight Howard, who came from the right side, caught with one hand and threw down the coolest dunk of the game. It was better than anything we saw in the actual slam dunk contest.

Melo scores again. He has a very easy 21. Partially easy because he's unguardable, but also because he's jacking lots of shots.

Joe Johnson swishes a jumper, giving him 10 points. Each East starter has double-digits, except Garnett, who has played fewer minutes than the other four guys and isn't looking too hot.

LeBron goes down the middle and enters "you can't contain me" mode, and throws down a two-handed reverse dunk that reminds me of what I used to toss down on David Robinson, before my alarm clock would wake me up.

Another play of the game: Wade had the ball on the left baseline. LeBron cut down the middle. Wade tosses. LeBron puts down something disgusting, putting the East up 97-88, leading to a timeout.

The likelyhood of serious defense in an All-Star game is the likelyhood that Shakira will come home with me after the game.

Another alley-oop! This time LeBron feeding a streaking Wade. Too easy! And fun to watch.

Hey Mark Cuban and Jerry Jones: Yes, you can borrow five bucks. Not a problem, just stop bugging me about it.

Derrick Rose just set Bosh up for an open outside jumper. It missed. I do not approve. Go for highlight plays only, please!

And at the buzzer, Durant catches a pass from Billups and tosses in a three-pointer from the left of the top of the key.

End of third quarter: East 118, West 109. FOURTH QUARTER

We've got a three-point game. This quarter should be fun. The entire game has been entertaining once players got into it.

Things are getting more intense. At 7:05, D-Wade drove into defenders, who actually then proceeded to shock the world and attempted to defend. The result was a foul, and Wade falling down, as he tends to do 195 times per game. East now leads by two.

I've barely noticed Zach Randolph today. But he's here and has just eight points on 10 shots.

Scrappy Rondo defense resulted in a fast break alley-oop to D-Wade, who has been InsideHoops.com's MVP for this game most of the way through. But if the West wins, MVP probably goes to Carmelo Anthony.

The action has gone back and fourth. I've typed less this quarter because the same guys continue to stand out: Wade, Bosh, LeBron for the East, and Melo for the West.

A Billups three (his fifth of the night) with 2:00 to go makes it East 137, West 133.

At 1:20, LeBron tossed an alley-oop to Bosh, but Dirk got a finger on it, and the dunk missed. East is up two.

Billups, known for being clutch, hits a mid-range jumper to tie the game with a minute left. He has 14 in the quarter.

LeBron misses a catch-and-shoot. West ball. D-Will drives but gets stripped by D-Wade, and with the score tied at 127, D-Will intentionally fouled Wade. It seems Williams thought his team was down. Bad mistake! And it put Wade at the free throw line. Both shots hit. East now up 139-137.

Will the West go for the tie or the win?

Official attendance for this game: 108,713. The most ever.

Billups gives it to Nowitzki at the right three-point elbow. Dirk fakes. Dwight goes for it, and fouls Dirk. He gets two free throws, though, not three. Dirk hits both, tying the game at 139 with 7.7 seconds left in the game. Dirk has 22 points.

Bosh inbounds, gets it back, drives, gets bumped by Billups and falls. Refs call foul. With 5.0 seconds left, Bosh hit both free throws, putting the East up two.

For the game, Deron Williams inbounds to Melo, who dribbles, forces a tough contested shot up top in three-point range that misses. Buzzer sounds. East wins! Final score: East 141, West 139.

As expected by those of us at InsideHoops.com who watched the game, Dwyane Wade was named 2010 NBA All-Star MVP.

More content, including player interviews, coming late Sunday night and Monday.

Read InsideHoops.com every single day!


-------------------------------------------------------------------------





Additional NBA All-Star Game Information



2010 EAST NBA ALL-STARS

Guards: Dwyane Wade, Joe Johnson, Rajon Rondo, Derrick Rose

Forwards: LeBron James, Kevin Garnett, Chris Bosh, Paul Pierce, Gerald Wallace

Centers: Dwight Howard, Al Horford, David Lee*

East Starters: Dwyane Wade, Joe Johnson, LeBron James, Kevin Garnett and Dwight Howard.

2010 WEST NBA ALL-STARS

Guards: Steve Nash, Deron Williams, Chauncey Billups*, Jason Kidd*

Forwards: Carmelo Anthony, Tim Duncan, Kevin Durant, Pau Gasol, Dirk Nowitzki, Zach Randolph

Centers: Amar'e Stoudemire, Chris Kaman*

West Starters: Steve Nash, Carmelo Anthony, Dirk Nowitzki, Tim Duncan and Amar'e Stoudemire.

ALL-STAR GAME INJURY REPLACEMENTS

Jason Kidd replaced Kobe Bryant (injured). David Lee replaced Allen Iverson (out due to personal reasons). Chris Kaman replaced Brandon Roy (injured). Chauncey Billups replaced Chris Paul (injured).

NBA ALL-STAR STARTER REPLACEMENTS

If a starter is injured, the All-Star coach can choose the replacement from the remaining roster. So in the West, even though Bryant is a guard, Nowitzki replaces him in the lineup. And in the East, Iverson is being replaced by another guard, Joe Johnson.

InsideHoops.com will have full All-Star game coverage. Reload this page regularly during the game, and also hit our basketball message board to discuss it with other fans.


----------




2009 NBA ALL-STAR GAME


February 15, 2009



The West rocked the East by a score of 146-119 to win the 2009 NBA All-Star game. Former Los Angeles Lakers teammates Kobe Bryant and Shaquille O'Neal (now with the Phoenix Suns) were named the game's co-MVP award winners.

Bryant in 29 minutes took more shots (23) than any player for either team, finishing 12-of-23 for 27 points, 4 rebounds, 4 assists and 4 steals. He took 10 shots in the first quarter alone.

O'Neal in 11 minutes shot 8-of-9 for 17 points, 5 rebounds and 3 assists, and had several fun plays, including one where he threw a pass in-between the legs of defender Dwight Howard, cut to the basket, received a return pass and slammed home a dunk.

Amare Stoudemire shot 7-of-10 to add 19 points and 6 rebounds for the West.

Chris Paul was amazing for the winning squad, shooting a not-so-amazing 7-of-14 but finishing with 14 points, 7 rebounds, 14 assists and 3 steals.

Also for the West, Pau Gasol added 14 points and 8 rebounds. Brandon Roy (7-of-8) scored 14 with 5 rebounds and 5 assists. Tony Parker (7-of-11) scored 14 with 4 rebounds and 4 assists.

LeBron James led the East with 20 points, but he shot just 8-of-19 to do it, including a final shot in the closing minute where the entire defense literally cleared out so he could throw down a highlight jam. James also had 5 rebounds, though his 3 assists were cancelled out by 3 turnovers.

Also helping the East was Dwyane Wade (6-of-13) with 18 points, 5 assists and 3 steals, and Paul Pierce (6-of-11) with 18 points and 4 rebounds.

Dwight Howard led his squad with 9 rebounds. He had 13 points on 11 shots.

The West shot 65-of-106, for a fantastic 61.3%. The East was just 47-of-100, 47.0%. Both teams struggled from three-point range, shooting under 29%. The East had a few more free throw attempts. But the West won the rebounding battle 51-38 and dished 37 assists to the East's 21.

This year's game lacked the fun highlights and playful showmanship basketball fans tend to expect and look forward to in NBA All-Star games. It was a fairly regular game, by All-Star standards.

NBA ALL-STAR GAME NOTES

The Canadian national anthem was sung by Tamia Hill, the wife of star NBA veteran Grant Hill. And the Star Spangled Banner was sung by Jordin Sparks, the youngest singer to ever win the TV show "American Idol."

Huge West run -- The AP reports: The East started quickly, while the West missed nine of its first 11 shots and trailed 20-10 when West coach Phil Jackson called timeout and inserted O'Neal with 5:44 remaining in the first quarter. The West scored the next 11 points with Shaq and Kobe on the floor, part of a 19-0 run that made it 27-20.

Shaq brought fun -- The AP reports: Shaq got into a playful mood during the pregame introductions. He came out wearing a cape and a white mask that was reminiscent of the outfit from Phantom Of The Opera. He then whipped off the cape and engaged in some fancy dance moves with a group of dancers, drawing some oohs and aahs from the sellout crowd at US Airways Center. Once Shaq entered the game in the first quarter, he continued his antics, pulling off moves uncharacteristic of those during the regular season. For example, he would get the ball on the perimeter, make some shake-and-bake moves, then dribble toward the basket like a point guard. Normally, he just camps under the basket and waits for the down-low pass. He also showed his humorous demeanor during the third period on a video displayed on the big screen in the arena. In a segment with NBA players trying to lip-synch to popular songs, O'Neal did his brief version of Caribbean Queen in a playful manner.

The Boston Globe reports: "That's the first time I have seen an MVP that played 11 minutes in an All-Star Game," Phil Jackson said about O'Neal. "But he really had an impact on the game, there is no doubt about it. The impact was short-spelled and strongly felt. "We just said we have to punish them - they are a smaller team, they are a quicker team. If we take long shots and they can run out from the long shots, we are going to be in trouble. So, we've got to get the ball inside and stay attached to the game and score in the paint."

The Boston Globe reports: Ray Allen called the West's size edge "lopsided," and Kevin Garnett, who made his 12th All-Star appearance, accused the West of playing a zone defense. "I was disappointed the West played a zone," said Garnett, who had 12 points on 5-for-5 shooting. "With the athleticism we have, you want to be athletic, and [the fans want to see] our ability to jump to the moon. But that was their gameplan and they executed their plan."



Last year's NBA All-Star Game



Feb. 17, 2008

The 2008 NBA All-Star Game on Sunday, Feb. 17 in New Orleans, will air live on TNT and ESPN Radio beginning at 8 p.m. EST.

LIVE 2008 NBA ALL-STAR GAME NOTES

InsideHoops.com follows the 2008 NBA All-Star Game with raw, unedited notes and obserations live as the game happens. Because we love you. Recap comes afterwards.

Also, talk about the game with other fans on the world famous InsideHoops NBA message board.

EAST STARTERS: Jason Kidd, Dwyane Wade, LeBron James, Chris Bosh Dwight Howard.

EAST BENCH: Chauncey Billups, Ray Allen, Joe Johnson, Paul Pierce, Richard Hamilton, Antawn Jamison, Rasheed Wallace.

Not playing for East due to injury: Caron Butler, Kevin Garnett.

WEST STARTERS: Allen Iverson, Kobe Bryant, Carmelo Anthony, Tim Duncan, Yao Ming.

WEST BENCH: Chris Paul, Steve Nash, Brandon Roy, David West, Carlos Boozer, Dirk Nowitzki, Amare Stoudemire.

And, the game has begun.

Two minutes in, the West leads 54 to 51. OK, I'm just kidding. All-Star games are high-scoring, but that's a bit much.

At 9:13 Kobe Bryant, who doesn't want to play beacuse his finger is hurt, exits the game. Steve Nash enters. Kobe could be done for the night.

AT 8:38 Jason Kidd fired an awesome semi no-look lob to LeBron James, who cut at the basket from the right baseline and crammed it.

Next play, Kidd on the fast break bounced the ball hard off the backboard trying to hit D-Wade, but the play was broken up.

A D-Wade layup makes it 14-5 East up.

West misses are turning into East fast breaks, resulting in easy baskets. Chris Bosh has several open dunks. At 6:24 it's 18-7 East.

It appears Bryant definitely is done for the evening.

LeBron James fires a fairly open three-pointer, with Carmelo Anthony running late at him. It missed, though. And then next play, Steve Nash uses a Yao Ming screen, gets near the paint, dishes to a standing-still Melo, who quickly uses an opening to get at the rim and hit a layup, plus a foul due to lazy defense.

After a timeout, the West looks more aggressive. Yao Ming, on the right baseline, hits a beautiful semi-fadeaway jumper, then Allen Iverson busts out for a fast-break layup, cutting the East lead to 4. And a few plays later, an Iverson fast break leads to a pass to Melo, who get fouled.

Dirk Nowitzki, Amare Stoudemire, Chauncey Billups and Rasheed Wallace are in.

Billups is working. First, a lean-in bank shot from the right elbow. Then a catch on a break for a layup plus the foul, though he misses the free throw. And then a sweet assist to teammate Ricahrd Hamilton who hits a layup. And then a short pass to Paul Pierce, who hits from outside, making it 26-17 East. Then, Billups misses from outside.

David West, who fans outside of New Orleans would still not recognize out on the street, is in, and scores.

A Rip Hamilton jumper from the right baseline is the final made shot of the first quarter.

End of first quarter: East 34, West 28.

Kidd is having fun tossing alley-oops, this time to LeBron, who isn't able to put it down, but Dwight 'Superman' Howard cleans it up and score.

Brandon Roy, in for the West, cuts, and Chris Paul, with eyes on all sides of his head, spots him and fires a perfect pass for a revere layup.

LeBron goes towards the basket, tosses it to Kidd, who fakes a few times and fires it back to LeBron, who goes in for an open dunk.

No one is playing defense. I could probably hit a few threes in this game.

It's hard to tell the different teams apart. Because the East uniforms are blue in the front, but a light silver in the back, while the West team uniforms are white in the front and gold in the back. Obviouly the blue and white fronts are easy to tell apart. But when an East player is facing in the opposite direction and a West player is forward, the silver and the white are very close to each other. Since not all the players on each team always face the same direction, it sometimes looks like there are three or four different teams out there. The gear does look cool, though. I want one of those warmup jackets.

There are just back and forth layups now, with no real defense being played aside from players reaching out as guys blow past them.

A fun exchange was Kidd lobbing high to LeBron, who misses, but Dwight Howard punches home the miss. And then a play later, LeBron pounded home a lob from Howard. With a Dwight Howard slam shortly later. It's now East 59-53 with 5:45 left in the second quarter.

Chris Paul is dishing tons of assists.

Iverson is showing that he was made to be a shooting guard, not a point guard. This is old news, but it's being confirmed before our eyes.

Halftime score: East 74, West 65

East halftime leaders: LeBron James (5-of-9) has 12 points, 6 rebounds and 7 assists (3 turnovers). Dwight Howard (5-of-5) has 12 points, 3 rebounds, 3 assists and 3 steals. Richard Hamilton has 9 points, Dwyane Wade and Chris Bosh each has 8 points. Rasheed Wallace has 5 rebounds.

West halftime leaders: Brandon Roy (5-of-7) has 11 points and 5 rebounds. Carmelo Anthony has 10 points and 4 rebounds. Amare Stoudemire has 10 points. Carlos Boozer has 8 points and 6 rebounds. Chris Paul has 7 points and 6 assists. Allen Iverson has 6 turnovers.

The East has jacked 19 three-pointers, hitting just 5. The West has only shot 6 threes, hitting 3. Both teams are blowing what few free throws they've taken. There are only two blocks in the entire game so far.

Third quarter:

The first bucket of the second half was a pretty one: Dwyane Wade, driing at the rim from the left side, goes at the rim, draws a reach-in foul from a backpeddling Steve nash, spins backwards and flips it in.

Kobe Bryant hasn't come out from the locker room. I know he's not playing again but I hope things are going OK with his finger. Maybe he should go and have the surgery, if he could be at full strength after the six-week recovery. Rather than him being semi-hurt all season and playoffs.

At 11:07 Yao Ming had some fun, firing a three-pointer from the left elbow. Missing it, but he was happy to take it. Manute Ming.

Iverson, tired of committing turnovers, set Tim Duncan up for an open dunk, but the big guy blew it. Maybe he knows Iverson got way more turnovers than assists in the first half and doesn't want to ruin that trend.

Dwight Howard dunks again, his 23,104th of the game.

Most of Kidd's lob attempts aren't being put down, but they're fun, because they make his teammates fire themselves into the air, like human pogo sticks. Maybe Kidd just likes seeing them jump.

Kidd has now passed to LeBron about 592 times on fast breaks. The "defense" is usually in proper position to prevent the finish, though.

LeBron is on pace for the All-Star MVP award.

Iverson runs a break, and shoots a layup over Kidd, but misses. Is he trying to mock Kidd by imitating Nets basketball this season?

It's a lob-fest, on the East at least. Every play is either a lob inside, or a layup attempt.

Ray Allen shows some flair, faking a behind-the-back pass and then going up for a layup. The East is up 95-79, around half-way through the third quarter.

The East has led the entire game. Maybe they should trade more All-Stars to the West to make it more fair.

Chris Paul enters and immediately destroys everyone and then dishes to Melo for an open finish at the rim.

Rasheed Wallace, who would rather be on a tropical island beach right now, misses a three.

At 3:50 David West, operating inside, got blocked by Rasheed Wallace, then by Antawn Jamison, then by Wallace again. It's a block party, and West is the guest of honor.

Steve Nash scores. He's little. And then Nash feeds David West, who this time is able to score without being blocked by every fan in the stands.

The West is coming on, and cuts the East lead to 5.

Sweetest layup of the game came from Ray Allen, who drove from the right side and flipped a reverse layup up, but after he had already gone way past the basket, so it was more like a short reverse one-handed "shot" than a mere layup. Go to the park and try to hit that. I bet you'll miss it a lot.

Paul Pierce is blazing, dumping in baskets faster than I dump in dunks from the free throw line. He and Ray Allen have scored the last big stack of East buckets.

End of third quarter: East 106, West 93.

Chris Paul fires a perfect bounce pass to a baseline-cutting Carlos Boozer, who had a layup or dunk but flubbed it, causing a few boos from fans who wanted CP3 to get an assist.

Amare Stoudemire, guarded by Dwight Howard, dribbles from the free throw line down the right side and crams hard. Is it on? It may be on.

CP3 races right down the middle, fakes a pass off the dribble yet maintains the dribble and instead dishes to Boozer, who puts it down. Pretty.

Paul is making a run, so is the West, who has cut the East lead to 108-103.

Fans get to vote for the All-Star game MVP this year. Right now I'd give it to LeBron James, but Chris Paul is coming on strong.

Amare slams again, giving the West a 10-0 run, until LeBron finally scores. But then Dirk htis a three.

A West fast break led by CP3 results in a lob to Brandon Roy, tying the game at 110.

Dirk Nowitki gets inside for a layup, giving the West their first lead of the game. But Billups, who tends to own 4th quarters, answers.

The West is using a massive lineup, with Dirk at small forward and Amare with Duncan also up front.

At 5:34 LeBron, guarded by Chris Paul off a switch, takes his time dribbling up top and fires a three-point airball, drawing jeers from fans.

Nowitzki, jealous of LeBron's airball, fires an outside airball of his own. He's struggling from three-point range this regular season.

At 3:28 Brandon Roy, dribbling at the free throw line, tosses it to Amare Stoudemire, who launches himself at the rim, drives at Jason Kidd, gets bumped by Dwight Howard while flipping in an off-balance layup, plus a foul.

Ray Allen, who can shoot, nails a three.

CP3, fighting hard for the game's MVP award, dishes to a cutting Brandon Roy for a fast layup.

Ray Allen, spotting up a few feet behind the three-point line, bounces in a three, his 4th of the game. CP3, trying to be Ray allen, does the same, but misses. Ray Allen, open in transition from the right elbow in three-point range, fires and hits again. He's up to 23 points. The East is up 125-122 with over a minute left in the game.

After a timeout, a CP3 three ties the game. Ray Allen tries to answer but misses.

The East is swarming on defense, and it results in a turnover after a bad Dirk pass. LeBron brings the ball up, operating from three-point range on the right side, then goes completely insane unleashing a crossover dribble that leaves Amare behind, penetrates the middle, and dunks on about 80 people.

CP3, operating up top, fips a short pass to Dirk Nowitzki, then sets a screen that slams hard into Ray Allen, and the refs call CP3 for it.

Dwyane Wade, who would love to be on a team that wins once in a while, penetrates, draws a foul, and puts in a double-clutch layup, plus the foul. Though he misses the free throw. East up four with 36 seconds left in the game.

CP3 flips it to Dirk Nowitzki who fires a three-pointer from the left elbow, but Wade, in his face, rejects it. The West recovers but misses, Jason Kidd gets the ball, runs, and fires a perfect long pass to Ray Allen who, while possibly getting away with an extra step, races in for a layup, putting the East up 6 with 16 seconds left.

CP3 brings it up, gives it to Brandon Roy who nails a three-pointer from the left side.

The East inbounds to Ray Allen, who is immediately fouled by CP3. Allen never misses free throws. He hits the first, and then -- yeah -- misses the second. It's East up 132-128. Allen has around 26 points.

Ray Allen get fouled again, with 1.8 seconds left. He makes both.

Final score: East 134, West 128. Fun game!

The East's LeBron James was awarded the 2008 NBA All-Star game MVP award.

For the East: Ray Allen (10-of-14, 5-of-9 threes) had 28 points in just 19 minutes. LeBron James (12-of-22) had 27 points, 8 rebounds, 9 assists (4 turnovers), 2 steals and 2 blocks. Dwight Howard (7-of-7) had 16 points, 9 rebounds, 3 assists and 3 steals. Chris Bosh (7-of-15) had 14 points and 7 rebounds. Dwyane Wade (7-of-12) had 14 points, 4 rebounds and 3 assists. Paul Pierce scored 10. Jason Kidd dished 10 assists.

For the West: Brandon Roy (8-of-10) had 18 points, 9 rebounds and 5 assists. Carmelo Anthony (8-of-17) had 18 points and 7 rebounds. Amare Stoudemire (8-of-11) had 18 points and 5 rebounds. Chris Paul (7-of-14) had 16 points, 3 rebounds, 14 assists (just 2 turnovers) and 4 steals. Carlos Boozer (7-of-15) had 14 points and 10 rebounds. Dirk Nowitzki (just 5-of-14) had 13 points and 4 rebounds.

The best East players were LeBron, Dwight Howard and Ray Allen. The best West players were Chris Paul and Brandon Roy.

Read InsideHoops.com several times daily, 365 days a year.





---
LIVE UNEDITED INSIDEHOOPS 2007 ALL-STAR GAME NOTES

Jeff Lenchiner, editor of InsideHoops.com here, typing raw, totally unedited comments. Don't judge my sentence structure. Hang here with me. I'm watching the All-Star game with you. Reload this page every 10 minutes for updated comments. And on our forum there's an All-Star Game thread where tons of fans are commenting and discussing the game live as it happens. Join them.

Mason, the arena announcer who did the player introductions for the 2007 All-Star game did an awesome job. The dude nailed it.

Wayne Newton did a nice job singing Viva Las Vegas before, in the middle of and after the player intros.

A female singer named Roxanne Potvin, from Circus Olay (yeah, I don't know how to spell Olay and I'm not googling it right now) sang the Canadian national anthem. And I'm sure you're glad I said "female" singer, as if there are a lot of dudes named Roxanne. Anyway, she did a nice job.

The East starters are Gilbert Arenas, Dwyane Wade, LeBron James, Chris Bosh and Shaquille O'Neal. It's Bosh's first all-star start.

The West starters are Kobe Bryant, Tracy McGrady, Kevin Garnett, Tim Duncan and filling in for the injured Yao Ming is Dirk Nowitzki.

LeBron James came out just before tipoff, took the mic at halfcourt and gave a shoutout to the fans, instructing them to buckle their seatbelts and enjoy the game. They will, sir. Just don't layup when you can dunk.

The opening tip turned into a volleyball match, landing in the hands of the West. Within a split second Gilbert Arenas jacked a shot and missed. For the West a lob to Kevin Garnett was pulled down by KG and put up for a layup and the first bucket of the 2007 NBA All-Star game.

A Kobe Bryant bank-shot made it 4-0 West. But Dwyane Wade quickly answered with a jumper. And the very next play D-Wade stole it from Tracy McGrady and went in for an easy dunk.

The nicest play so far, which was actually a missed shot, was LeBron James driving at the rim from the right and lobbing it into Shaq, who was unable to tomahawk it in. The younger Shaq would have put it down.

McGrady has handles, and he dribbled behind his back, drove and dished baseline to a waiting Tim Duncan, whose jumper made it 10-4 West at 8:10.

Dirk Nowitzki has subbed out early, replaced by Shawn Marion. The West's lineup isn't quite as oversized anymore.

Gil Zero hit a three, helped by a Chris Bosh screen. And a play later Arenas caught a long football pass for a layup.

Back-to-back dunks by Kobe Bryant and Wade made it West 14-11 and picked the pace up slightly. So far the game's been medium-paced. But a wet spot on the floor caused a brief delay.

Dwight Howard is now in for Shaq.

After a timeout, suddenly the game is faster. And the dunk of the night so far is a LeBron James "runaway truck" play on a break.

Jason Kidd, getting some plugs by the announcers for his well-publicized divorce, is sitting courtside. He already has a triple-double; impressive considering he's injured and not playing.

At the 6:00 mark in teh first quarter the East leads 15-14.

Some Suns action went down as Amare Stoudemire missed a tough fadeaway jumper in the paint, but teammate Shawn Marion jumped about 29 times in the span of half a second to tip it in.

Tony Parker and Josh Howard are in for the West, and Jermaine O'Neal for the East. I think it's cool that J-Ho made it. He and Caron Butler are right on the border and while they could be back, it's possible this is the last All-Star game for either of them. Don't get excited, I'm not predicting they're both done forever. Just saying, there are a number of guys at their positions in both conferences that were very close to being here.

At 4:11 LeBron got creative and threw the ball off the backboard while charging down the middle of the paint and tried to fly in for the spectacular alleyoop finish, made famous by a pair that McGrady threw down and one that Vince Carter completed in recent years. But LeBron suffered a brief scary moment when Amare Stoudemire got stuck underneath him, causing a miss. It was almost a scary fall but LeBron sensed it early and landed safely, getting immediately up with no stoppage of play.

Now on offense, Amare, realizing he shouldn't fade away, muscled his way at the rim for very short semi-layup type jumper, and scored. And then a play later fought his way in and did it again, this time with a foul.

Carmelo Anthony is currently playing shooting guard, alongside Tony Parker.

Mehmet Okur, with his usual hair gell and facial hair, enters. He's the hair gell leader so far. Though, I'll admit to not even thinkinig about it until now.

Melo, right side near the baseline, backsteps a few times until he had some jump-shot room and swishes it. And a play later catches a lob and slams an alleyoop to put the West up 37-27. Vinsanity immediately responded with some sort of twisting dunk that made me blink.

Unless I'm forgetting someone, Richard Hamilton is the only mask-wearing All-Star this year. That's key. Because if the game gets lousy he can take it off and start playing frisbee with the fans.

End of first quarter: West 39, East 31.

I'm a fan of the new D-Wade Gatorade commercial, where a nerdy/responsible D-Wade consciousness and a flamboyant no-fear consciousness, represented in the form of two mini-heads floating atop Wade's shoulder, are screaming advice to Dwyane as to whether he should go in for a dunk or take a jumper. Good spot. So they get a plug.

And while I'm on that, adidas gets a plug too. Because they've been in the InsideHoops.com ad rotation for a few months now. Check out the adidas mini-section on our site with the Gil Zero sneakers, KG Bounce, the T-Macs and new all-star gear.

Ray Allen starts the second quarter off with a three. He's a moviestar, you know.

A T-Mac three puts the West up 15 at 10:20. The east needs to wake up. And no sooner typed than Chauncey Billups bounced the ball off the backboard while Vinsanity soared in from the left side for an uncontested one-handed finish.

Why is the West winning? They're 4-of-5 from three-point range in the two and a half second quarter minute that have gone by.

This game needs some Shaq-Fu breakdancing.

And no sooner said than Shaq gets put back in, and hits his first field goal. Shockingly enough, it was a dunk. And right after completing it he grabbed McGrady's head and planted a kiss on the back of it. Or faked it. Hopefully the latter. At least it wasn't anything like Dick Bavetta showing his affection for Charles Barkley.

At 7:28 with the West up 56-39 Gil Zero, guarded by Tony Parker, pulled up at the top in three-point range, jacking a three that missed. He's not shy with the rock.

There's too much isolation play in this game. Very little cutting, and players aren't hitting cutters. Somewhere, international players on Euroleague teams are watching and rolling their eyes. It's fun so far, though.

Shawn Marion is playing hard. So is Amare Stoudemire. The West as a whole is just a slightly higher level of intensity than the East, thus the 61-43 lead at the 6:04 mark. And a Tony Parker outside jumper wets the net putting his squad up 20.

The East are going out like suckers, so far. Get these fools off the court and put Michael Jordan, Larry Bird and Patrick Ewing in.

Arenas jacks a three again, from the left side. Another miss. The West is around 5-of-9 from three-point range while the East is 2-of-11.

And the West has 21 assists so far; just 13 for the East.

At the 3:45 mark and the West up 18, Amare leads the West with 11 points, 5 rebounds and 2 assists. Melo is now 5-of-6 for 10. Kobe had 8. For the East, LeBron has 11 points, 4 rebounds and 2 assists. Dwight Howard is 4-of-5 for 8. Shaq and Wade each has six.

At 2:42 Wade drove in and Kevin Garnett, alone on defense in the paint, swatted it like I swat bad cards dealt to me at the blackjack table.

The top star in this building? InsideHoops.com's own Bobby "The Voice" Ciafardini, totally overshadowing lesser celebs like Prince, Diddy, Jay-Z, Beyonce, Eva Longoria, and the Terminator.

The West is playing basketball. The East is going through the motions.

With a second left Dwight Howard missed up close and went up for a follow-up dunk, getting fouled, and grimacing a bit, clutching the left side of his lower back. No big deal, he's fine. And although I think his first free throw went in (I didn't see), the second one was about a foot and a half off to the left. It reminded me of that Yao Ming commercial where some dude playing a video game was able to control Yao's shot by moving his baseball hat.

End of first half: West 79, East 59.

InsideHoops.com stat analysis of the first half: The West is shooting 35-of-64 and has hit 6-of-11 three-pointers. The East is just 26-of-60 and 5-of-17 threes. Neither team went to the line much. The West has a five-board rebound edge. Assists tell the tale as the West leads 25-16 in dishes. The West got 9 steals, the East just 5. And the East has no blocks yet.

For the West, Kobe Bryant has 17 points on 14 shot attempts, plus three steals. Carmelo Anthony, 6-of-7 shooting, has 12 points. Amare Stoudemire on 5-of-8 shooting has 11 points, 5 rebounds and two assists. Every West player is shooting well.

For the East, LeBron James The halftime entertainment was Toni Braxton, singing like someone stuck an apple in her mouth and made her keep it there. I say this every year, but how about some rock and roll? As usual this is a nice song, and as usual it's not "basketball music." And for the second song she's now singing some sort of eclectic Monk-chant sort of song with some tribal drums and some dudes in exotic costumes doing impressive dances on the court. Very talented (the dancers). Though, not to repeat myself for the 7th year in a row, this doesn't "feel like basketball" at all in any way.

And thankfully, that's over. Braxton didn't sing well.

Now Christia Aguilera is up. And her first five seconds blows away whatever Toni Braxton just sang. Aguilera isn't "basketball" either but she's singing that high-energy hit of hers that does have some punch to it. The "Ain't no other man but you" song. At least it's fast. And hits you. It's good, for the style.

Now Christina is doing that Candyman song. "He's a sweet-talkin sugar-coated candyman!" This isn't basketball at all, but at least Christina and the backup singers are snapping their beautiful booties back and forth pretty nicely. That's a step in the right direction.

I want Metallica! Well, I prefer beautiful girls. But, musically, gimme some hard rock.

Christina really is amazing live. Even if she isn't basketball, she's just absurdly talented. And she's hot. I can't complain about her. And generally I'm all about the positives, whenever they exist.

And, the performances are over. Aguilera was terrific as always. Braxton was a disappointment.

And back to basketball. The third quarter has begun.

Both teams have picked the pace up but the West is just more intense. Give some credit to Shawn Marion, who isn't racking up big stats but is pushing hard every second he's on the floor. With 7:25 left in the third it's West 95 East 71.

No, Beyonce, I won't go out with you. I could never do Jay-Z like that. Sorry, baby. Stick with your man.

The adidas all-star warmup jackets are hot. I want one. Don't know if I like the blue or red better, though. They're both hot. I want both.

A lob to Vince Carter was broken up and turned into a Kobe lob to Marion, who slammed it, putting the West over 100. And seconds later Amare slams again. He's rocking the quarter and has 12 of his 23 points in the period. West leads 103-74 at 4:55.

All alone, Marion windmills it with the left hand, putting the West up 31. East coach Eddie Jordan needs to do something right now. The game isn't over yet, folks. A 31-point All-Star game lead is like an 18 point regular game lead. Still tough to come back from, but possible.

The West is shooting 58% for the game. THe East around 43% or so.

Let Shaq play point guard. Since the East has no one even pretending to dictate their offense.

At 2:05 Melo grabbed a rebound and for the fun of it pounded the ball into the glass before pulling it down. Kids will be imitating that in the playground tomorrow. If they're still awake. Considering it's a 30 point game, they may all be asleep.

Should I make more jokes about chicks? Seeing as how there isn't a lot to comment on as far as the game goes. Yes? OK. Here:

Listen Mya. You're cute and all. But I'm busy, baby. I'll text you, though. Next week.

We're in the early 4th now. A Kevin Garnett jumper from the top of the key puts the West up 121-91. But LeBron answers with a three. He now has 21 points.

Mehmet Okur's first-ever field goal in an all-star game came around 10:20. A baseline jumper from the left side. No defender was within 10 feet. He had literally 2-3 long seconds to line the shot up and swished it.

The crowed is silent. Maybe bring Christina Aguilera back.

And at 8:23 Shaq unleashed his point guard show, dribbling between his legs a few times at the top in three-point range with a grinning Okur guarding him, "driving" (or something) and missing a jumper. Melo was amused. As was I. Do it again, Shaq!

The West has now set an all-star record with 47 assists, and a full 7 and a half minutes left in the game.

Kobe and Marion throw down back-to-back uncontested dunks, putting the West up by 30.

The East are a bunch of chumps that aren't cutting, aren't hitting the nonexistent cutters, aren't hustling on either end, and deserve to be fined. Kidding about the fine, of course. Mostly.

Kobe is racking up buckets. He has 26 points on 11-of-19 shooting plus 4 rebounds, 6 assists and 5 steals. Amare has 23 on 11-of-15 shooting. Melo and the Matrix have 18 each. For the East, LeBron has 26, 5 and 4 on 10-of-17 shooting. Dwight Howard has 16 and 9 on great shooting. Everyone else on the East has 10 or less.

Caron Butler is 0-of-6 for the game. He's the only scoreless All-Star.

We're down to the final four minutes. Someone do something fun.

The highlight for the East actually took place during a timeout. Some Elvis impersonators were dunking off of trampolines, and Gilbert Arenas joined in, probably scaring the Wizards ownership something fierce.

And in the final minute or so Kobe did something the East players probably thought was illegal: He made a quick move and exploded at the rim, throwing down a beautiful 180. Some "Kobe!" chants began from the fans. He'll probably win the game's MVP award.

It's over. The West wins, 153-132.

And yes, a few minutes after the final buzzer David Stern addressed the fans and announced that the 2007 NBA All-Star Game Most Valuable Player is Kobe Bryant. It's the second time he's won the award.

"We had a good time. It was a great weekend. Hopefully we put on a pretty good show," said Bryant.

Kobe liked being in Vegas. "It was great. Hopefully we can come back."

This was an extremely lazy game. It felt like preseason, except with all-stars out there.

You can see the full box score here.

Later tonight InsideHoops.com will post interviews from All-Star Saturday, another article or two about the weekend, and more. ANd tomorrow, interviews from the All-Star game.

Go Inside Hoops every day! The NBA trade deadline is Thursday. March Madness starts in two weeks. The NBA playoffs start three weeks after March Madness ends. We never stop. InsideHoops.com is your online basketball home. We love you.



2007 NBA ALLSTAR GAME PREVIEW

East Starters: Gilbert Arenas, Dwyane Wade, LeBron James, Chris Bosh and Shaquille O'Neal
West Starters: Kobe Bryant, Tracy McGrady, Kevin Garnett, Tim Duncan and Dirk Nowitzki.

The only injury substitution in the starting lineup is Dirk Nowitzki, who replaces Yao Ming. Yao was voted as a starter by the fans. Dirk was voted as a reserve along with the other reserves by the coaches. West All-Star head coach Mike D'Antoni had the decision of who to start at center for Yao, and he selected Dirk.

This year's NBA All-Stars will be outfitted for the first time by adidas who have created new uniforms inspired by the city of Las Vegas. The deep blue colors of the East All-Star uniforms and the rich red colors of the West All-Star uniforms speak to the bright colors of its famous Strip. Jerseys have "East" and "West" wordmarks on the front along with individual player name, number, and team logo embroidered on the back.

The Phoenix Suns trio of two-time Most Valuable Player Steve Nash, Shawn Marion and Amaré Stoudemire lead the list of 14 players that have been selected by the coaches as reserves for the 2007 NBA All-Star Game which will be played on Sunday, Feb. 18 at Thomas & Mack Center in Las Vegas.

Joining the three Suns as Western Conference reserves are first-time All-Star forward Carlos Boozer of the Utah Jazz, Allen Iverson of the Denver Nuggets, Dirk Nowitzki of the Dallas Mavericks and Tony Parker of the San Antonio Spurs.

Two Eastern Conference players are also making their initial All-Star appearance as forwards Caron Butler of the Washington Wizards and Dwight Howard of the Orlando Magic has each been invited to Las Vegas. Guards Chauncey Billups and Richard Hamilton of the Detroit Pistons and Jason Kidd of the New Jersey Nets, forwards Vince Carter of the New Jersey Nets and Jermaine O'Neal of the Indiana Pacers also were named to the Eastern Conference All-Star team.

The 14 players selected -- seven each from the Eastern and Western Conferences -- were chosen by the 30 NBA head coaches, who were asked to vote for seven players in their respective conferences -- two guards, two forwards, one center and two players regardless of position. They were not permitted to vote for players from their own team.

Previously selected as starters for the East through the 2007 NBA All-Star Balloting Program presented by T-Mobile were Cleveland's LeBron James, Miami's Shaquille O'Neal and Dwyane Wade, Toronto's Chris Bosh and Washington's Gilbert Arenas. Houston's Tracy McGrady and Yao Ming, Los Angeles Lakers' Kobe Bryant, Minnesota's Kevin Garnett and San Antonio's Tim Duncan will start for the West. The selections of Nash (Canada), Nowitzki (Germany) and Parker (France) along with voted-starters Duncan (U.S. Virgin Islands) and Yao (China), gives the 2007 NBA All-Star Game five international players. Should any player be unable to participate in the All-Star Game due to injury, NBA Commissioner David Stern will select the replacement. Phoenix head coach Mike D'Antoni and the Suns' coaching staff will be on the sidelines for the Western Conference All-Stars, as they previously clinched the best winning percentage through games of Feb. 4 among eligible Western Conference teams for the All-Star coaching honors. The Eastern Conference Coach is yet to be determined with the coaching staffs of the Washington Wizards (27-18, .600) and Cleveland Cavaliers (26-19, .578) still in contention. Last year's All-Star coaches – Dallas' Avery Johnson and Detroit's Flip Saunders – are not eligible this year.